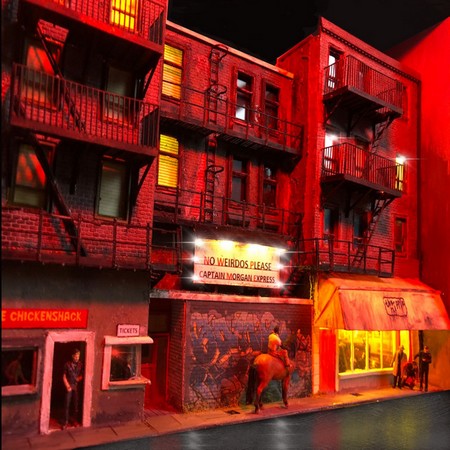 Captain Morgan Express – No Weirdos Please
Geschreven door: Eric Campfens
i.s.m. BarnOwlBlues | FB Eric Campfens
Het uit Utrecht afkomstige Captain Morgan Express is een band, die al zo'n jaar of zeven meedraait en lof oogstte met hun albums en vooral hun optredens. De band bestaat uit Johnny 'Boy' Brouwer (zang, bluesharp), Hans Gerrietsen (gitaar), Phil Admiraal (bas) en Frank Boot (drums). Wat geboden wordt is een combinatie van boogie en blues, zowel die uit het diepe zuiden van de VS als uit Chicago.
Na de goed ontvangen "Fistful Of Dirt" en het unplugged "Naked To The Nipple" is onlangs hun nieuwe album "No Weirdos Please" verschenen.
Op het album staan twaalf nummers, waarbij de heren geput hebben uit de rijke bluesgeschiedenis. Zoals zoveel anderen werd de band door de bekende pandemie gedwongen de oefenruimte te gaan opzoeken en naar eigen zeggen hebben zij die gelegenheid gebruikt om het repertoire fors uit te breiden. Het resultaat mag er zijn.
Op het album staat een verscheidenheid aan stijlen, die varieert van boogie, shuffles, bluesrock en ballads met als uitersten het rustige "No Lie" en het rauwe "Walking The Dog". Het putten uit de rijke bluesgeschiedenis, zoals ik al beschreef, resulteert uiteraard in het etaleren van nummers, die al in tientallen gedaanten zijn verschenen. Ik noem bv. "Crosscut Saw" en "Born Under A Bad Sign". Toch weten de heren van Captain Morgan Express er een eigen draai aan te geven, waardoor het interessant blijft. Een prima cd.
Website: www.captainmorganexpress.com | (8/10) (eigen beheer)
Tracks Listing:
1. Crosscut Saw - 3:00
2. Hanging Tree - 5:09
3. No Lie - 2:37
4. My Baby Says She's Gonna Leave Me - 2:25
5. Got To Move - 4:18
6. Walking The Dog - 3:01
7. You're Gonna Need Me - 4:01
8. Carried By Six - 2:36
9. Detroit, Michigan - 4:12
10. Anytime You Want - 3:28
11. Born Under A Bad Sign - 3:08
12. Fistful Of Dirt - 3:22