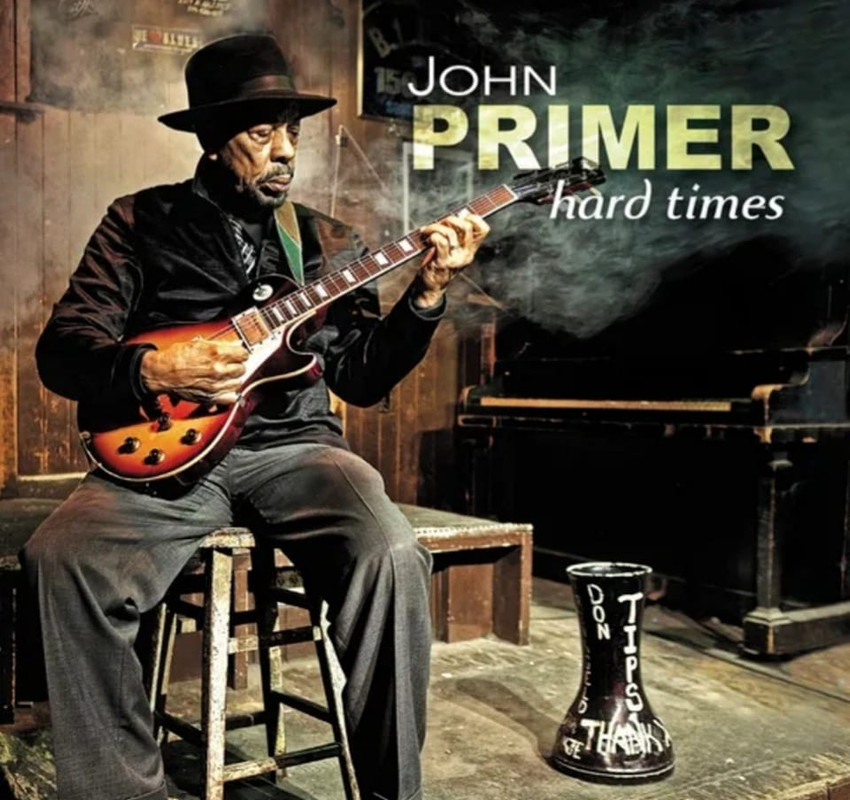 John Primer – Hard Times
Geschreven door: Eric Campfens
i.s.m. BarnOwlBlues | FB Eric Campfens
Hij is een graag geziene gast in onze contreien, deze John Primer. Regelmatig doet hij ons land aan tijdens Europese tournees en speelt dan op festivals of in theaters. Primer wordt geboren op 5 maart 1945 in Camden, Mississippi. Op zijn achttiende verhuist hij naar Chicago, waar hij onder meer te horen is op de legendarische Maxwell Street Market. Langzaam aan verplaatst zijn werkgebied zich naar de clubs en wordt hij een veelgevraagd begeleider van artiesten als Magic Slim, James Cotton en Magic Sam. In 1991 verschijnt zijn eerste eigen album. Ruim dertig jaar later is John Primer een naam, waar men in de Chicagoblues niet omheen kan.
Op zijn nieuwe album "Hard Times" wordt Primer begeleid door zijn eigen Real Deal Bluesband, bestaande uit Steve Bell (harmonica), Lenny Media (drums) en David Forte (bas). Als gastmuzikanten doen ook nog gitarist Rick Kreher, toetsenist Johnny Iguana en zijn 17-jarige dochter, zangeres Aliya Primer mee. De dertien nummers op het album zijn door Primer zelf geschreven. Zoals te verwachten bevinden we ons hier ruim een uur lang middenin de Chicagoblues. Vanaf het begin, het vlotte "You Got What I Want", tot het eind, het vrolijke "Whiskey", krijgt de luisteraar dit genre blues op hoog niveau voorgeschoteld. Nummers die er wat mij betreft bovenuit steken zijn de slowblues "Blues Blues Blues" met venijnig gitaarwerk van Primer, het door Aliya gezongen "Tough Times" en het mooie "Trying To Make You Mine". Een uitstekend album, top niveau.
Website: www.johnprimerblues.com | (8/10) (Blues House Productions)
---
Translate: ENG
©

fotosbluesrock.nl
A welcome guest in our regions, this John Primer. He regularly visits our country during European tours and then plays at festivals or theaters. Primer was born on March 5, 1945 in Camden, Mississippi. At eighteen he moves to Chicago, where he could be heard at the legendary Maxwell Street Market. Slowly his work area moves to the clubs and he becomes a much sought-after accompanist for artists such as Magic Slim, James Cotton and Magic Sam. His first album was released in 1991. More than thirty years later, John Primer is a name that cannot be ignored in the Chicago blues.
On his new album "Hard Times" Primer is accompanied by his own Real Deal Blues band, consisting of Steve Bell (harmonica), Lenny Media (drums) and David Forte (bass). Guest musicians will also be guitarist Rick Kreher, keyboardist Johnny Iguana and his 17-year-old daughter, singer Aliya Primer. The thirteen songs on the album are written by Primer himself. Unsurprisingly, we find ourselves here in the middle of the Chicago blues for over an hour. From the beginning, the smooth "You Got What I Want", to the end, the cheerful "Whiskey", the listener is presented with this genre of blues at a high level. Songs that stand out to me are the slow blues "Blues Blues Blues" with venomous guitar work by Primer, the "Tough Times" sung by Aliya and the beautiful "Trying To Make You Mine". An excellent album, top level.
In 2017 I spoke John myself. An article on this conversation can be read here.