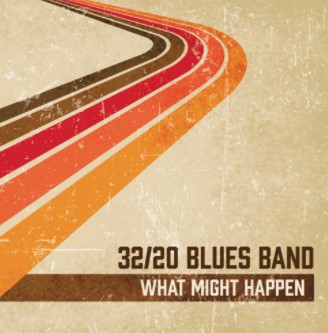 Recensie: 32/20 Blues Band - What Might Happen
Time: 39:29
Release: 2021
Label: Kawumm Records
Geschreven door Harrie Huisman voor fotosbluesrock.nl
32/20 Bluesband:
Thomas Neukirch (zang, gitaar)
Heiko Wilhelmus (gitaar)
Ingo Nuekirch (bas)
Benjamin Krämer (drums)
De 32/20 bluesband ,is al eenentwintig jaar actief in de bluesbusiness, bracht pas hun vijfde album "What Might Happen" uit.
New record "What might happen" of 32/20 BLUES BAND
Eastend
Dead Tired
Smartest Player
9 To 5
Save Me
My River
Chances
Nobody's Shakin' Hands No More
What Might Happen
On The Road
Dat er in Duitsland ook goede bluesband zijn te vinden en te beluisteren bewijst deze band rond Thomas Neukirch
Alle stukken zijn geschreven door Thomas Neukirch en de muziek door Heiko Wilhelmus.
De tien nummers zijn opgenomen in de Kreisrockminister Studio. Heiko Wilhelmus produceerde daar de huidige plaat .
De 32/20 Blues Band is een soort garantie voor goede, vermakelijke blues/blues rock.
Het kwartet weet de luisteraar van de eerste tot de laatste noot van "What Might Happen" voor zich te winnen en het is aan te raden om in één keer van alle nummers te genieten.
De gast toetsenist Thomas Bracht past perfect met de hele drukte van de 32/20 Blues Band twaalf-beats. Of het nu gaat om heerlijk geknoopte klanktapijten met zijn Hammond.
Liefhebbers van de boogie/blues of bluesrock komen goed aan hun trekken bij het kwartet.
Er zij nogmaals op gewezen dat bassist Ingo Neukirch en Benjamin Krämer net zo gevoelig zijn voor hun werk als Thomas Neukirch en Heiko Wilhelmus .
Voor deze plaat is het helemaal op zijn plaats om te zeggen handen in de lucht en geniet van deze plaat.
Gasten:
Markus Stoll (trompet)
Carlos Wagner (tenorsaxofoon, baritonsaxofoon)
Thomas Bracht (Hammondorgel, piano)
Website 32/20 Bluesband | 8/10