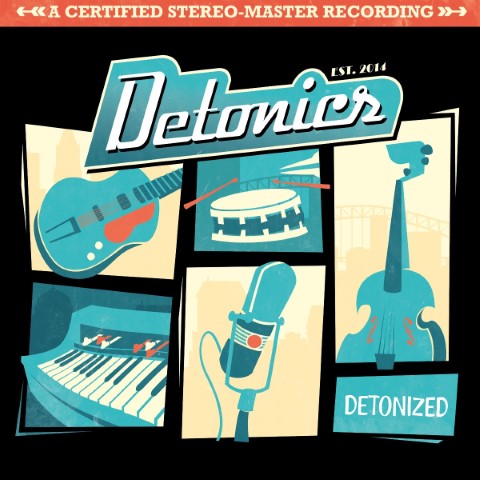 Detonics

- Detonized
Album out on 23/09/2022
"Inspired by the early West Coast blues, Detonics love to play Swing & Boogie, but with this album they gonna drag you a bit further into the stinky swampy soils of the Mississippi.
For creating the ultimate fifties sound they recorded this album in the traditional way: with analog tube microphones and gear, all together in one room making use of overspill instead of avoiding it. They now proudly present the results of these sessions with their new album Detonized consisting of ten original explosive compositions by the band.
Dutch: "Geïnspireerd door de vroege West Coast Blues spelen wij veelal Swing & Boogie, maar met dit laatste album gaan we verder. We zullen jullie een eind meesleuren in de dampende en onwelriekende moerasgronden van de Mississippi. Om het daarvoor benodigde ultieme jaren vijftig geluid te creëren hebben we deze plaat op de traditionele manier opgenomen: met analoge buizenmicrofoons en instrumenten, alles tegelijk in één ruimte, gebruik makend van de overspraak in plaats van het te vermijden. Dit resulteerde in een tiental originele eigen
"explosieve" composities, die we verzameld op "Detonized", met trots aan jullie willen presenteren. We hopen dat jullie er net zoveel van zullen genieten als wij tijdens de opnames deden." Detonics speelde al op diverse grote internationale festivals en clubs, waaronder
Ribs & Blues, Culemborg Blues, Breda Jazz en Moulin Blues (Nederland)), Santa Maria Blues festival (Azoren), Swing Wespelaar (België), Zyfflich Blues festival (Duitsland), Jazz am See (Zwitserland) and BB King's club in Memphis (VS).
Detonics wordt door diverse vakjury's geroemd voor hun creatieve songs en krachtige performance: in 2016 won de band de Dutch Blues Challenge en vertegenwoordigde Nederland op de European Blues Challenge. In 2017 bereikte Detonics de halve finale van de International Blues Challenge in Memphis. Eén van de juryleden zei achteraf: "The moment they started to play I got a smile on my face that didn't get off anymore".
More Info: Big D Bookings | info@bigdbookings.com | www.bigdbookings.com