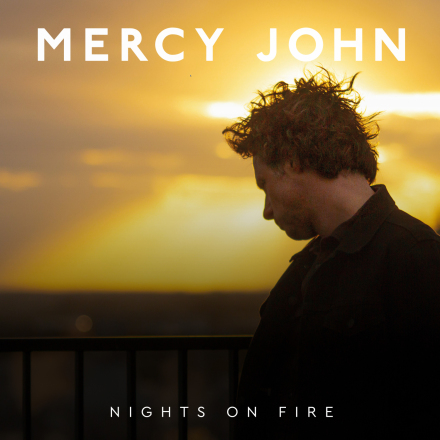 Album: Mercy John - Nights On Fire
Nights On Fire', zo luidt de titel van het nieuwe langverwachte derde studioalbum van Mercy John. Deze opvolger van het alom geprezen album 'Let It Go Easy' (2019) zal op 28 oktober 2022 op vinyl en als CD gereleased worden, via V2 Records.
Het nieuwe 11 nummers omvattende album schreef Mercy John in de Covid-periode. Een tijd waarin ieders geduld op de proef werd gesteld, er steeds maar weer shows verplaatst werden en het succes van de mede-geschreven hit 'Roller Coaster' vooral op de radio te horen was en helaas niet live. Maar nu is het tijd voor iets anders, tijd om naar buiten te gaan: de nacht in. Om iets nieuws te ontdekken. Om het leven te vieren dat voor ons ligt, maar ook om het leven te vieren van diegenen die Mercy John helaas in het afgelopen jaar zijn ontvallen. Want de nacht is ondoorgrondelijk, opwindend en verraderlijk tegelijk.
Tracklist:
1. Mercy John – Teenage Lovers
2. Mercy John – Before You Go
3. Mercy John – How Can We Be In Love
4. Mercy John – Give Me All You Got
5. Mercy John – Death Is In The Air
6. Mercy John – Nighttime Walk
7. Mercy John – Ghost In The Machine
8. Mercy John – I Am A Lover
9. Mercy John – Nights On Fire
10. Mercy John – On With The Parade
11. Mercy John – A Place We Can Go To
In het begin van 2022 trok Mercy John met zijn vaste band de studio van Jules Fransen in om 'Nights On Fire' op te nemen. Zoals altijd zijn de songs en teksten een afspiegeling van het leven van de Brabander. Waardoor de nummers van het album van klein en intiem (Death is in the Air) tot groots en intens klinken (Ghost in the Machine), met daarbij genoeg ruimte voor zijn bandleden Rolf Verbaant (gitaar), Kirsten Boersma (toetsen), Tom Zwaans (bass) en Lynyrd Denissen (drums) om te schitteren.