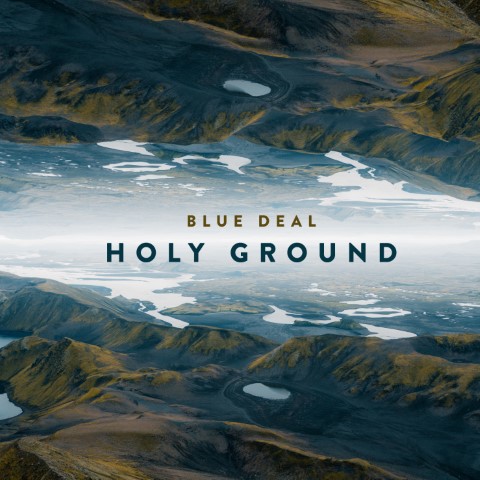 Bluesrock: Blue Deal - Holy Ground (Eigenbeheer)
"I like your music - Keep rolling that Rock!"
Says Free's Paul Rodgers on "Memory Street," a song from Blue Deal's 2022 debut album Holy Ground. This statement to Joe Fischer, the former frontman of the Freiburg "Cadillac Blues Band", felt like an accolade for him and was the motivation for founding the band "Blue Deal" - fresh, powerful and experienced, a cross-generational project and forged for the spirit of the age.
Despite the 30-year age difference from the youngest to the oldest band member, the four understand their craft and, due to the age-related different musical spectrum, cleverly merge different styles. The songs tell stories from life or take a critical stand on current issues. The lyrics of the songs are certainly formative, and in addition to the well-established themes, they also contain very critical approaches:
"Sewing Machine" - a text about garment production in Bangladesh
"Go" - lets our earth speak to us
"Suicide Boogie" - describes the fact that we humans act destructively
"Three Dollars" - denounces banks' lending practices.
These are lyrics that also capture time spirit of for example, 'Fridays for Future'. Without moralizing.
With three tours through Scotland, the band has proven that blues rock "Made in Germany" can be authentic and internationally successful.
Social: booking@blue-deal.info – Joe Fischer - website: bluedeal.info

LINEUP:
Joe Fischer (lead vocals, keys, cigar box guitar):
The timbres and his own way of phrasing make Joe's voice truly unique.
And mastery of numerous instruments adds to the band's eclectic sound. A
Frontman with a wide range and charisma.
---
Tom Rollbühler (git, voc):
He breathed in the blues live on stage as a 6-year-old and caused a sensation
"guitar prodigy" provided. Of course heavily influenced by Hendrix and Stevie Ray
Vaughan. He is now a sought-after guitarist and producer in the southern German music scene.
---
The beating musical heart of the band. Creating groove from precision is the
art he masters. He significantly shapes the sound of Blue Deal and enriches it
musical output of the band with his wonderful feel for songwriting.
---
Martin Burger (bass, vocals):
"Groove is everything and everything must groove" is his motto and Martin is exactly that
what Blue Deal needs. His inputs as an arranger on the one hand and the successful symbiosis withJürgen on the drums on the other hand make him the perfect "groove motor".
---

Joe's Blue Deal Story
My influences? Clearly the 70s. Skynyrd, Free & Co. What else if you were born in 1964? To this day, I consider this time to be the Real Deal!

After 7 years of classical piano lessons, the first band came at the age of 14. Blues piano replaced classical music. Music? There were none – only records. You record it on a cassette and can then listen out with cassette recorders - fast forward and rewind - again and again until you have understood what the guy is actually playing. That's how it was. That's how I came to my blues piano. No Youtube – where every lick is served to you on the tray. You only had your ears :)
The first Blues Band (Sixpack Blues Band) was formed 10 years later in 1988 in Freiburg/Germany. At the same time, I honed my vocals and discovered my love for Paul Rodgers. His influences can still be heard in my singing today – and it feels good and right. The song 'Memory Street' is a tribute to him. We were very happy about his positive reaction. (see on our website: bluedeal.info)
From 1989 then the Cadillac Blues Band. On the road until 2014. 3 studio albums and a live album. Many gigs/festivals throughout Europe – the highlight was certainly the USA tour in 1996.
The first harbinger/comrade-in-arms for the Blue Deal project is our drummer Jürgen Schneckenburger – a real blessing in my musical vita. A perfect drummer who brings the really cool shuffle and can push the whole band wonderfully in front of him. At the same time a real rock drummer with the right punch and a very soothing precision. A rock!
Since 2015 we have been tirelessly searching for the right band, the right chemistry. One thing has always been clear: it has to be blues rock – no matter what the mainstream dictates in the charts. Good old handmade music.
Handmade is also the Cigar box guitar that has influenced my songwriting for several years. The song 'Sewing Machine' I wrote in Scotland is one of three Cigar box songs on Blue Deal's 'Holy Ground' album.
In 2020, the time had come. I met our guitarist Tom Rollbühler. 30 years younger than me! Oh man, is that possible? Oh yes – of course it works! A dream combination, as has now been shown. We speak the same musical language and now understand each other blindly. His influences are actually the same as mine – rather much further influenced into the present day by guitar heroes like John Mayer or Gary Clarke jr. Oh yes – there is also a time after Hendrix and SRV! And Tom embodies that in an ingenious way.
Together with the bassist Grille Roth we had the opportunity to develop songs and song approaches together during the corona time in Grille's studio and from this our first album 'Holy Ground' was created. Many different facets of blues – rock – rock'n'roll – ballads. No two songs are the same. You don't know Blue Deal if you've only heard one song :)
In the summer of 2022, our bassist Martin Bürger joined the band and made the setup perfect. He grooves, and grooves and grooves – has a wonderful sound. A real gift! We were thrilled from the first test and now feel complete and rounded. The second album will come and we still have a lot to tell! But first we tour and celebrate the 'Holy Ground' album live! Oh yeah! Joe Fischer