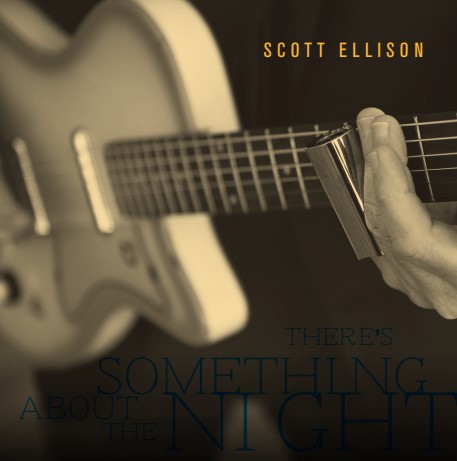 Scott Ellison - There's Something About The Night.
For his new album, There's Something About The Night, Scott Ellison had the opportunity to fine-tune his approach to every aspect of the creative process, and results are stellar. Sidelined from his usual wall-to-wall touring because of Covid lockdowns, he took advantage of the time spent at home to create the most focused album of his multi-decade career.
"This is my 13th album, and it's the first time I didn't have to go through a start-stop start-stop recording process,"
he relates. "Like pretty much everyone else, starting around March of last year, I was stuck at home! I would get up at 5:30 or 6 in the morning, pick up my guitar, and just work on songs.
Being forced to be off the road might have been the best thing that's ever happened to me from a creative standpoint." Over the course of 14 tracks, Ellison's searing guitar and soulful vocals make for a potent one-two punch. From a Chicago-meets- Texas shuffle to full tilt blues-rock workouts, pure soul blues and just about every point between, the album checks all the Blues boxes and then some. Writing and recording from his hometown of Tulsa, OK, the record features his primary backing and touring band on some tracks and an array of Los Angeles-based all-stars including members of Eric Clapton's band and Albert Lee's band on others.
Ellison also co-wrote ten tracks with Michael Price (who penned "Ain't No Love (In The Heart Of The City)" for Bobby "Blue" Bland, and which Ellison gives a soul-stirring treatment to for the record's first single and video). "Working with Michael was an eye-opening experience. With an array of styles woven together in one cohesive package, There's Something About The Night takes Ellison's past and present and reinvents them as a bold template for the future
Frank Roszak
KBA Recipient 2014 PUBLICIST
www.frankroszakpromotions.com