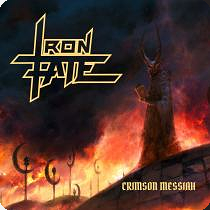 IRON FATE - - Crimson Messiah
Genre : Heavy Metal – Germany)
​Release: 17.12.2021 / Label: Massacre
Marketing / Distribution: Suburban / Bertus
BeNeLux Promotion:The Rock Online
Wanna go on a journey through fast-paced, epic, melancholic, and even aggressive musical landscapes? IRON FATE will take you with them!
The band's second album offers all this and more. You can look forward to heavy metal with a few hard rock elements and thrashy tunes here and there!
An info sheet with additional details about the album, the front cover as well as the lyrics are available for download just below the thumbnail of the album's front cover on the right side of this page.
IRON FATE – Crimson Messiah

CD Digipak
01. Crimson Messiah
02. Malleus Maleficarum
03. We Rule The Night
04. Crossing Shores
05. Mirage
06. Strangers (In My Mind)
07. Hellish Queen
08. Guardians Of Steel
09. Saviors Of The Holy Lie
10. Lost Forever (Bonus Track)
ALBUM LINE-UP
Denis Brosowski - Vocals
Harms Wendler - Guitars
Oliver von Daak - Guitars
Jan Sasse - Bass
Kai Ludwig - Drums
GUEST MUSICIANS
• Henrik Osterloh (Deny The Urge): Solo on "Strangers (In My Mind)"
• Jost Schlüter: Solo on "Crimson Messiah" and "Crossing Shores"
• Harry "The Tyrant" Conklin (Jag Panzer, Satan's Host): Guest vocals on "Crossing Shores"
DISCOGRAPHY : 2006 • Iron Fate (Demo) 2010 • Cast In Iron 2021 • Crimson Messiah
• The second album of IRON FATE – available as CD Digipak, limited edition vinyl LP as well as in digital formats.
• Produced by Iron Fate and Jost Schlüter at PureSonic Studio.
• Mixed and mastered by Jost Schlüter at PureSonic Studio.
• Cover artwork designed by Iron Fate and Chris Cold; illustration & booklet design by Denis
Brosowski; booklet, inlay & woodcuts by Felix Rinck and Denis Brosowski; band drawing by The Pit Forg