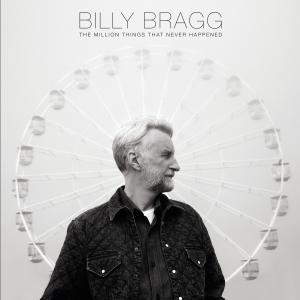 BILLY BRAGG - THE MILLION THINGS THAT NEVER HAPPENED
(Cooking Vinyl) V2 Records
Release date: Friday, October 8th 2021
Billy Bragg will release 'The Million Things That Never Happened', his tenth studio album, on October 8th 2021 on the Cooking Vinyl label. The album, the first pandemic blues album of our times but also a heartfelt paean to human resilience, features 12 soulful country rock gems. The record was produced by Romeo Stodart and Dave Izumi at Echo Zoo studio in Eastbourne. All songs are written by Billy Bragg apart from the final song (Ten Mysterious Photos That Can't Be Explained), which is co-written by Billy's son Jack Valero.
Bragg released the first taster from the album, and a personal favourite, the beautiful love song for our times, 'I Will Be Your Shield'.
Says Billy: "To me this (I Will Be Your Shield) is the heart and soul of the album. I've come to the conclusion that empathy is the currency of music – that our job as songwriters is to help people come to terms with their feelings by offering them examples of how others may have dealt with a situation similar to that in which listeners find themselves. After what we've all been through, the idea of being a shield, physically, emotionally, psychologically, really resonates."
On Thursday 9th September '21, a month prior to the album release, an online concert experience exploring the music and mind of Billy Bragg will be streamed on the Stabal platform. The show will feature the first outing of some songs from the new album, plus some nuggets from Bragg's illustrious catalogue. He is joined onstage by Romeo Stodart (gtr), Michele Stodart (bass), Darren Beckett (drums), Nick Pynn (lap steel gtr, violin) and Jack Valero (gtr), who all played on 'The Million Things That Never Happened'.
'Billy Bragg on'...will also offer On-Demand passes with bonus features that will include extra encore performances, exclusive interviews, a look at his new album, an in depth songwriting discussion with Billy and Romeo, plus a behind-the-scenes look into the making of 'Billy Bragg on…'
Tracklist:
1. Should Have Seen It Coming03:23
2. Mid-Century Modern05:28
3. Lonesome Ocean03:35
4. Good Days & Bad Days04:42
5. Freedom Doesn't Come For Free03:22
6. Reflections On The Mirth Of Creativity03:09
7. The Million Things That Never Happened03:46
8. The Buck Doesn't Stop Here No More04:44
9. I Believe In You03:03
10. Pass It On03:52
11. I Will Be Your Shield03:32
12. Ten Mysterious Photos That Can't Be Explained03:39
For more information contact: Stefan.Hayes@v2benelux.com