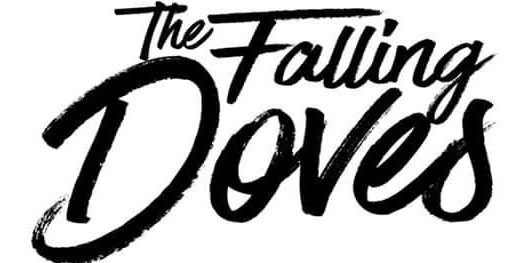 "The Falling Doves are a force of electric energy with a classic glam feel. Like many rock bands, nothing has come easy, but they've successfully etched out a place for themselves far beyond their hometown of Hollywood, California since forming in 2015.
The music is a fusion of stadium rock with garage rock familiarity, a sound that has helped the guys win over the ears and hearts of fans around the globe. Personally mentored by Phil Solemn (the Rembrandt's), the late Scott Weiland (Stone Temple Pilots), and Pete Best (the Beatles), the Falling Doves have additionally shared the stage with such established acts the likes of Echo & The Bunnymen, Peter Murphy of Bauhaus, Fastball, and Gilby Clarke; the list grows with each passing year.
2020 has been the trio's biggest year to date. Prior to COVID-19, their "Electric Dove World Tour" was set to sweep through Europe, Asia, and Latin America with nothing short of thunder and lightning. The band was able to rock Australia before restrictions were set in March.
Falling Doves signed a dual record deal with Pacific Records
In August of 2020, Falling Doves signed a dual record deal with Pacific Records in the US and RMN Records in the UK, and released their first single for 2020, "Be My Lover", The band is currently working on a new album at the most prestigious recording studio in the world Abbey Road in London under producer engineer Chris Bolster.
Falling Doves' music is fueled with heart-pumping, fast-paced, guitar-driven anthems typically reserved for the grand finale of an unforgettable rock festival. Blending the stadium-sized glamour of Britpop like Oasis and the Rolling Stones with the raw power of American rock 'n' roll like Guns 'N' Roses and Aerosmith, the Doves have established their own original sound blending the richest of rock traditions with original and innovative musical expressions. With numerous shows and world tours behind them, the Falling Doves are gearing up to rock even more stages in 2021 through 2022, continuing their global quest of reviving rock 'n' roll with a brand new redesigned multimedia experience tour
Leather jacket
Save your energy, dig up that leather jacket, and prepare to be electrified by rock's most fashionably dangerous band. Already a force to be reckoned with, the Falling Doves may very well, in fact, save rock 'n' roll...in style.
FIND FALLING DOVES ON THE WEB:
BOOKING BLACK CHERRY GROUP info@blackcherrygroup.com
www.fallingdoves.com | www.fallingdovesworldtour.com | www.facebook.com/fallingdoves
www.instagram.com/fallingdovesmusic | twitter.com/CLEYVA1980