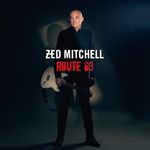 ZED MITCHELL - ROUTE 69
ZED MITCHELL ANNOUNCES HIS 8th ALBUM "ROUTE 69."
RELEASED FRIDAY 10 December 2020 ON Z RECORDS /
distribution TimeZone
A 10 track Vinyl will be released in January 2021, with 2
additional download tracks.
PRODUCED & MIXED BY ZED MITCHELL, it was recorded at his Funk Studios in Berlin
You can already pre-order the CD by e-mail at: zed.mitchell@gmx.
de German band leader, singer-songwriter, 5-octave vocalist, session guitarist and composer Zed Mitchell announces a new album 'Route 69'. I it's his 8th solo album in the last 13 years, in a 50-year career spanning 21 albums in all.
Recorded over the last 12 months, ''Route 69' features a dozen tracks full of his sumptuous guitar tone, autobiographical tales and songs that drip with melodic nuance and a lifetime's experience.

He nimble bends, nuanced use of sustain and pristine tones have a zen like quality. They create a seamless flow at the heart of an album on which he always serves the song first. "His mesmerising playing expresses the core of his heartfelt songs." Getreadytorock.com
One of Europe's leading session guitarists, Mitchell has been compared to Mak Knopfler, Peter Green, Eric Clapton, Robert Cray, JJ Cale, and Chris Rea, but he has his own unique style rooted in the blues but with a broader musical vision that brings alive lyrical meaning.
Lyricist Pete Feenstra who contributed to 4 songs similarly sees Mitchell's guitar playing as a catalyst for the songs themselves: "Zed says more in a note that many guitarists can achieve in a solo. He
subconsciously taps into musical thoughts themes and moods, so the songs nearly write themselves."
Regarded as one of the leading guitar players in Europe, Zed Mitchel began his career in Belgrade in 1970, where he established the Rock Guitar school
His 20-album recording career includes the million selling MSSO (Munich Symphonic Sound Orchestra), on which he was the featured acoustic and electric guitarist. He worked as a session guitarist at the famed Arco Studios in Munich, working with Tina Turner, Phil Collins, Natalie Cole etc, and also with composer Elmer Bernstein on the film soundtrack album 'Indiana Jones.'
He's toured with BB King, Santana, Joe Cocker etc, worked with Gillan,
Deep Purple and Focus and played guitar for Italian Euro pop star Eros Ramazotti, and German stars and producer Curt Cress, Udo Lindenberg and Leslie Mandoki.
But it's as a solo artist that he found his own unique voice on a series of themed albums such as 'Springtime In Paris', 'Autumn In Berlin', 'Winter In Amsterdam' and 'Summer In LA'.
He received his best reviews for his last album 'WOW', while 'Route 69' digs further into a spiritual connection between his guitar playing and the songs. "His blues comes from deep in his soul. You can feel the depth of his playing in every tone, as his guitar buries deep into the track to extend
lyrical ideas." Getreadytorock.com

PRODUCTION CREDITS
All music & lyrics by Zed Mitchell
Except Lyrics by Pete Feenstra*
All guitars Zed Mitchell & Todor Manojlovic
Voices: Zed Mitchell (Lead vocal) & Todor Manojlovic(bv)
Drums: David Haynes
Keys on 'The Girl That Broke Your Heart': Sascha Kuhn
Sax on 'Midnight Melody': Max Schurakowski
Producer, programming and mixing: Zed Mitchell
Recorded in Zed Mitchell studio in Düsseldorf
Artist website: www.zedmitchell.com