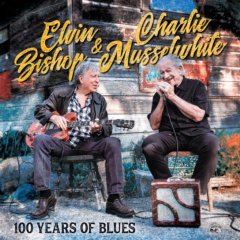 Next Friday, September 25, marks the release date for 100 YEARS OF BLUES, the first-ever album by Rock And Roll Hall Of Fame guitarist Elvin Bishop and Grammy-winning harmonica master Charlie Musselwhite. 100 YEARS OF BLUES is front-porch, down-home music with Bishop and Musselwhite trading licks and vocals on 12 rootsy, spirited songs, mixing nine originals with three reimagined classics.
Elvin Bishop: Guitar and Vocals
Charlie Musselwhite: Harmonica, Vocals and Slide Guitar (4)
Bob Welsh: Guitar (1,3,5,6,7,9,12) and Piano (2,4,8,10,11)
Kid Andersen: Upright Bass (1,4,5,12)
Produced, recorded, mixed and mastered by
Kid Andersen
at Greaseland Studios, San Jose, CA and Hog Heaven Studios, Lagunitas, CA
Co-Produced by
Elvin Bishop, Charlie Musselwhite
and
Bob Welsh
Tracklist:

Birds Of A Feather 3:25Birds Of A Feather 3:25West Helena Blues 4:53What The Hell? 3:09Good Times 3:48Old School 5:01If I Should Have Bad Luck 4:03Midnight Hour Blues 4:14Blues, Why Do You Worry Me? 4:05South Side Slide 3:16Blues For Yesterday 5:55Help Me 5:17100 Years Of Blues 5:14
Elvin Bishop is a legendary guitarist…impeccable and spirited…a distinguished American player. Charlie Musselwhite, with unabashed excellence, sets the standard for blues harmonica." -- Rolling Stone
The two history-making musicians – both Blues Hall Of Famers – are blues legends with over 100 years of professional musicianship between them. Although they've known each other since the early 1960s and recorded as guests with John Lee Hooker (and other friends), this is the first time that they ever teamed up to make a full record. Bishop and Musselwhite are joined by guitar and piano master Bob Welsh (also a member of Elvin's Big Fun Trio) for an infectious set of warm, funky, down-home blues.
The album was recorded at Kid Andersen's Greaseland Studios and Bishop's Hog Heaven Studios in northern California. It was produced by Andersen and co-produced by Bishop, Musselwhite and Welsh. The laid-back, spontaneous nature of 100 YEARS OF BLUES highlights the heartfelt passion of each performance. Throughout the album, the interplay of guitar, vocals, harmonica and piano is virtually telepathic. Infused with their deep understanding of the blues tradition mixed with the good-time spirit these two old pals stir up, 100 YEARS OF BLUES is one of the finest, most memorable recordings of either artist's career.