"I am so excited to sign to Ruf Records." Greene says, "Ruf is the place where Luther Allison and Walter Trout made some of the most important records of their careers. I'm thrilled to be a part of the blues rock guitar legacy that Thomas Ruf started with them." Alastair is also elated about the opportunity to collaborate with producer JD Simo (Jack White, Phil Lesh, Luther Dickinson, War and Treaty, Chris Isaak) in his Nashville studio. "JD is an extraordinary guitar player, and also an incredibly talented artist and producer."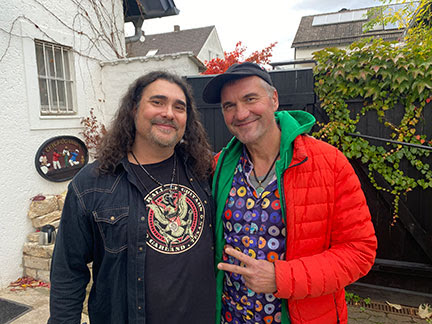 ALASTAIR GREENE AND THOMAS RUF AT GREENE'S SIGNING
Greene has previously released albums through Delta Groove Productions, Rip Cat Records, and more recently, with Tab Benoit's Whiskey Bayou Records. "I am truly grateful for all the label opportunities I've had leading up to signing with Ruf," shares Greene. "This feels like a natural, organic progression of my career and I couldn't be happier."
Label president Thomas Ruf raves, "Alastair Greene paid his dues with rock greats like Alan Parsons and Starship, and after years of performing his own brand of Blues Rock, it's exciting to see him realizing his full potential. We are proud to release Alastair's forthcoming album and have him join the 2024 Blues Caravan tour along with Eric Johanson and Katarina Pejak."
"Alastair Greene is killing it! He is singing great, writing great, he is at the height of his powers." —Joe Bonamassa "
A major talent in the Blues Rock category" —Blues Music Magazine
"He is a skilled, articulate songwriter with vocal and guitar talents to match... Alastair's tone is impeccably rich and complex, which will endear him to guitar fans everywhere, and he uses it to get the most out of every note." —Rock & Blues Muse
"Alastair Greene is a highly respected guitar player who was an integral part of the Alan Parsons Project. He is the equal of any and better than most." —Blues Matters Magazine
"Fronting a power blues-rock trio, guitarist Alastair Greene breathes in sulfuric fumes and exhales blazing fire. Greene is doing his best songwriting and singing ever." —Downbeat Magazine
Alastair Greene is a multi-charting Top 10 Billboard artist. The Alastair Greene Band, which has drawn comparisons to Gov't Mule, ZZ Top and Cream, has been traveling extensively throughout the United States, in addition to Greene performing over 100 recent support dates for Tab Benoit. And he has also had the opportunity to support Walter Trout on tours in the UK and Germany.
As Alastair Greene's prolific and acclaimed career is in its third decade, Greene has arrived at a new, yet familiar destination. Following a 2018 live album that celebrated the 20th anniversary of his noteworthy Alastair Greene Band, and then his last solo collection in 2020, The New World Blues, produced by Tab Benoit, the singer-songwriter/guitarist returned with an inspired live album, Alive In The New World in 2023. Presently, Alastair will be releasing a brand new studio record in 2024 on the famed Ruf Records label.
A native of Santa Barbara CA, recently transplanted to Austin TX, Greene has taken his Blues-soaked rock into the 21st century, traversing a constantly changing global (and musical) landscape. He's well-equipped for the challenge, carrying the diverse musical interests he developed at an early age, intrigued by his mother's piano-playing and a record collection that included The Beatles, Stevie Wonder, and Elton John. His father introduced the youngster to the sophistication of Bach and Beethoven, yet it was Greene's grandfather, the late trumpeter Chico Alvarez – a member of the Stan Kenton Band in the 1940s and '50s – who inspired him to pursue a life in music.
As a youth, he took piano lessons and played the saxophone before discovering the guitar in high school. '80s heavy rock icons Iron Maiden and Def Leppard brought motivational thunder. Then, a vintage and seminal sound – the Blues – changed Greene's course. Records by B.B. King, Buddy Guy, Johnny Winter, The Allman Brothers Band, and Stevie Ray Vaughan exposed the burgeoning guitarist to a trove of musical treasure.
He received a scholarship to attend the Berklee College of Music in Boston, where he studied for two years before returning in the early '90s to Southern California. Greene formed the Alastair Greene Band in 1997 and subsequently released 10 solo albums (including three live sets and a compilation record) over two decades. 2017's studio effort, Dream Train, landed a four-star review and Best Album of the Year nod in DownBeat; 2018's Live from the 805 was nominated for Rock Blues Album of the Year by Blues Blast Magazine, garnering inclusion on many 'Best of 2018' lists. 2020's The New World Blues debuted at number three on the Billboard blues chart, received accolades from Joe Bonamassa in his music blog and was featured on Joe's SiriusXM radio show. The single "Living Today" was one of the most played songs on SiriusXM Bluesville for much of the year. Greene also had exclusive premieres with Relix Magazine and a week-long exclusive premiere on DittyTV. He also graced the cover of multiple music magazines.
A much in-demand guitarist and vocalist, Greene's rock credentials include eight years of international touring on guitar and vocals with the Alan Parsons Live Project (2010-2017), and major dates with Starship featuring Mickey Thomas; as a blues player he is a longtime regular and host at the Memphis-based Blues Foundation events, performances and showcases, has been a featured performer at the Big Blues Bender and the Legendary Rhythm & Blues Cruise, and traveled extensively around the world while touring with Sugaray Rayford's band, which was nominated for a 2020 Blues Music Award with Greene.
Greene says "I endeavor to play the Blues. It's some of my favorite music that is basically responsible for everything we love today!"
More info at alastairgreene.com
FOR MORE INFO CONTACT: Amy Brat - BratGirlmedia | brat@bratgirlmedia.com