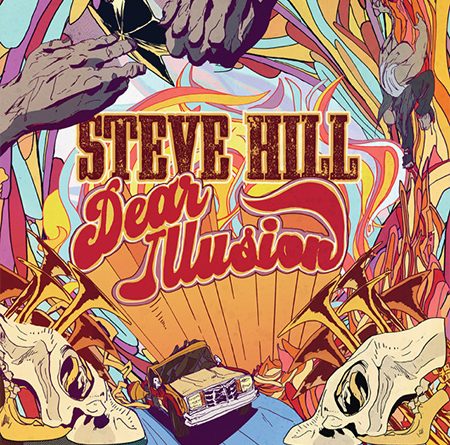 Steve Hill

- Dear Illusion
NEW ALBUM – "DEAR ILLUSION"
RELEASED FRIDAY NOVEMBER 11, 2022
NEW SINGLE "EVERYTHING YOU GOT"
Steve Hill, the acclaimed singer-songwriter celebrates his 25th year as a recording artist with this release. Three years in the making, the album is, without a doubt, a step up for the artist, both in terms of maturity and execution, and his best production to date.
His new album Dear Illusion is set for worldwide release via No Label Records on Friday November 11, 2022. The album is available worldwide from https://ffm.to/dearillusion.
The new single is accompanied by a music video which can be viewed on YouTube from Wednesday September 21st
Track Listing
01 – All About The Love (3:53)
02 – Keep It Together (4:11)
03 – Everything You Got (3:22)
04 – Dear Illusion (4:15)
05 – Steal The Light From You (4:09)
06 – Don't Let The Truth Get In The Way (Of A Good Story) (5:03)
07 – Follow Your Heart (3:22)
08 – So It Goes (2:49)
09 – She Gives Lessons In Blues (3:51)
10 – Until The Next Time (3:04)
Known over the last ten years as a one-man band, on Dear Illusion, the multi-instrumentalist shares the spotlight with a horn section, The Devil Horns, as well as 7-time UK Blues Awards Drummer of the Year, Wayne Proctor (A.A. Williams, Oli Brown, King King, Ben Poole). Proctor also mixed and mastered the upcoming record.
"I had a version finished right before the pandemic started," says Steve. "It was slated for release in April 2020. There was no point in releasing it then, so I decided to wait. The sad context of the pandemic resulted in additional time for me to offer my fans the album I'm sure will meet their expectations for my 25th anniversary as a recording artist. I am proud of the work."
"Ultimately, the results that we collectively achieved with the album, ended up reflecting both maturity and introspection. Overall, I feel like the album is telling that no matter what happens, you should give it everything you got and move on, be the best person you can be, and no matter what, the sun will rise again. Don't dwell on suffering, and don't forget about it, either. Even treat misfortune as a friend, slap it on the back and say, Thanks for teaching me."