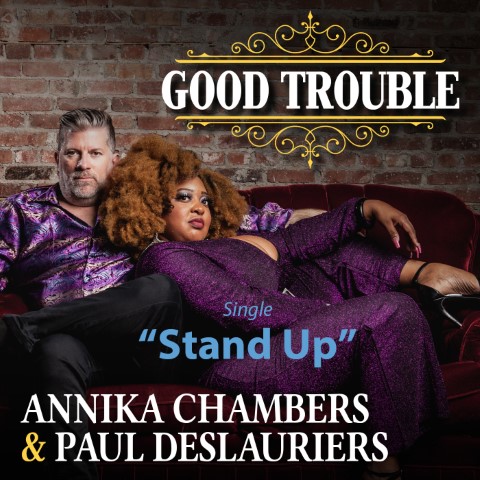 Annika Chambers & Paul DesLauriers - Good Trouble Single 'Stand Up'
Internationally acclaimed artists, American soul-blues singer Annika Chambers and Canadian Blues-rocker Paul DesLauriers have unified their personal and artistic destiny. After a brief introduction in Memphis at the 2018 International Blues Challenge, they met again at a 2019 recording session and got married in August of that year.

Now they have come together to create a powerful, soulfully rocking album that's an inspiration and a balm for life in today's world. GOOD TROUBLE started as Pandemic therapy, as newlyweds Annika and Paul got together with guitarist JP Soars and drummer Chris Peet in Peet's Florida home studio. The collaboration grew and blossomed.
"Think Mavis Staples meets the Rolling Stones," says Annika, as the aggressive guitars of DesLauriers and Soars mix with her glorious, soulful pipes to create socially conscious music with a message, original songs reflecting today's issues plus so­­me carefully chosen covers from artists including Joe South, George Harrison, and Little Willie John, plus an unrestrained version of Mountain's rock classic, "Mississippi Queen."
Paul is a 2-time winner of the Maple Blues "Entertainer of the Year" Award in his native Canada, and Annika is a 2-time winner of the "Soul Blues Female of the Year" Blues Music Award. Both released VizzTone albums in 2019.
STAND UP, the first single from Annika Chambers & Paul DesLaurier's album GOOD TROUBLE, reflects their unique and timely mixture of styles. Mostly known for her soulful blues recordings, here Annika's Gospel background steps up alongside Paul's masterful hard-edged blues-rock guitar to deliver their message with maximum impact. This is the song that contains the John Lewis quote that forms the album title, as it urges us to stand up, speak truth to power, and get into Good Trouble. In the tradition of Gospel music, the song accelerates into an uptempo chorus, bringing in background vocals and a Church vibe, reinforcing a message of hope and courage.
TRACKLIST
01Keep The Fire Burnin' 3:54
02Sweet Time 3:07
03Girl With The Heart Of Gold 4:25
04Every Now And Then 4:00
05I'll Follow You 4:22
06The Key 3:25
07Back In My Heart Again 3:18
08Let's Be-Bop 3:13
09Stillness Of The Night 3:41
10Good Trouble 4:07