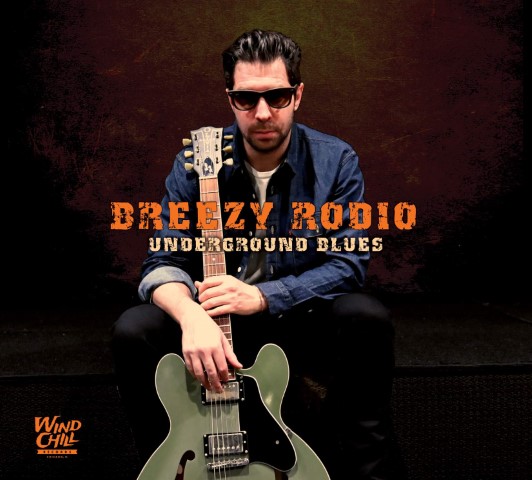 BREEZY RODIO - UNDERGROUND BLUES
CHICAGO BLUES
LABEL: WINDCHILL RECORDS
RELEASE DATE: AUGUST 5, 2022
DISTRIBUTION: BLOOS RECORDS
"I liked his approach to playing the guitar right away. He's got a unique style because he uses his thumb instead of a pick and he gets a cool vibe unlike any other guitar player out there. All of the songs on this record are different, original kinds of tunes. I think people are really gonna like it." Anson Funderburgh
Guitarist Breezy Rodio is a classic example of someone born in the wrong era and even in the wrong country. As the Italian born blues, soul, and reggae guitarist, who made his way to America and forged a career in The Windy City, truly has the heart of an authentic bluesman whose style and songwriting skills are from the golden era of Chicago Blues of the 1950's and 60's when giants like Muddy Waters, Howlin' Wolf, Buddy Guy and Elmore James walked the streets of the West and South side neighborhoods. Emigrating to the state in the early 2000's Rodio played behind Chicago bluesman Linsey Alexander for a decade before cutting his own debut album in 2011 and signing with Delmark in 2018. Rodio has followed the formula of Chicago blues based on the sound of electric guitar and harmonica, a solid rhythm section of drums and electric bass guitar paired with piano and B3 organ combined with heartfelt natural songwriting and real-life storytelling.
In March 2022 Breezy partnered with Texas guitar legend Anson Funderburgh to produce and record his latest album, Underground Blues at Wire recording in Austin for WindChill Records. The fourteen original tracks that Funderburgh calls "Chicago West Side Modern Blues," were captured live off the floor as showcased in the official video for the title track. Rodio testifies to his struggle under the yolk of the Covid lockdown, utilizing the familiar Magic Sam motif of alternating from straight to swing grooves to create the dynamic tension that only a seasoned songwriter would know.
1 HALF WAY IN THE DEVIL'S GATE
WITH ANSON FUNDERBURGH
2 C.H.I.C.A.G.O.
3 UNDERGROUND BLUES
4 PLAYING MY GAME TOO
WITH ANSON FUNDERBURGH
5 THAT DAMN COCAINE
6 THE MURDER
7 LIGHTNING STRIKE
8 THE ASYMPTOMATICS
9 LET ME GO
10 GERRY TOLD ME
11 HELLO FRIENDO
12 SUGAR DADDY
13 WHY DID YOU GO
14 BLUESONED
Album opener, "Half Way In The Devil's Gate," is a down tempo hypnotic blues with a deep pocket soaked in thick B3 organ, heavily effected brooding vocals, and yearning lead guitar featuring Anson. The clever word play on "C.H.I.C.A.G.O," spells out the virtues of his beloved new hometown over a Chi-town shuffle that features hot harmonica from Josh Fulero and barrelhouse piano from Dan Tabion. Bassman Johnny Bradley and drummer Lorenzo Francocci dig deep into the shifty funk groove of "Playing My Game Too" that could have been found on a Butterfield Blues Band recording, featuring Funderburgh on guitar. Rodio then chastises a friend, pressing them to get straight and stop using "That Damn Cocaine," emphasizing his plea with sensitive lead guitar. Roadhouse blues riff, "The Murder," recounts the tale of man escaping the fury of a woman scorned and the slow blues, "Lightning Strike," speaks more on the subject of tough love with Rodio's guitar doing most of the talking. Fulero joins the crew again for the jaunty, jazzy instrumental, "The Asymptomatics," and everyone swings hard on the 12/8 blues of heartache "Let Me Go." The autobiographical "Gerry Told Me," speaks to one man's determination to make it in the tough music business. Tabion's piano leads the New Orleans rhumba "Hello Friendo," and Rodio pays tribute to the great Chicago Blues men on the scorching twelve bar "Sugar Daddy," evoking many a legend of the form. The sweet ramble "Why Did You Go,' is a spot-on re-creation of a Chess Records' session from the 1950's.
Breezy Rodio closes out "Underground Blues," by mixing up a spoken word meets bump and grind blues number "Bluesoned," declaring "When I was young, I got poisoned by the blues, I got bit and you know what happened," declaring his addiction to the sacred music he is dedicated to, becoming the living breathing embodiment of the notion "Keeping The Blues Alive." Rick J Bowen
BIOGRAPHY
By any standard, Breezy Rodio's blues odyssey has encompassed quite a few more miles than that of most up and coming musicians now working the competitive Chicago circuit. In 2007 Rodio joined the band of guitarist Linsey Alexander, known as "The Hoochie Man" to his many devoted fans. Breezy soon advanced to a band­leading role with Alexander's outfit, the guitarist working on his 2010 album "If You Ain't Got It"," as well as Linsey's two acclaimed Delmark albums, 2012's "Been There Done That" and his most recent release in 2014, "Come Back Baby." Rodio found time to do his own thing too, cutting his 2011 debut album "Playing My Game Too" with a stellar supporting cast that included guest guitarists Lurrie Bell, Rockin' Johnny, and Dave Herrero and bassist Bob Stroger along with Alexander and Guy King. In 2015 Breezy released his second album, "So Close to It," which obtained very favorable reviews from all corners of the map. It reached the number two spot nationwide in the Chicago Blues category on the Roots Music Report, the number one independent music chart worldwide.
On "So Close To It," Breezy reaffirms his crisp, clean mastery of electric blues guitar, displaying a keen sense of tradition and proving himself a convincing vocalist as well. He invited another cadre of Chicago's top blues luminaries to join him, led by harpist extraordinaire Billy Branch, searing guitarist Bell, and two-fisted pianist Ariyo. Hammond B3 master Chris Foreman was on board too, along with jazz mainstays Art Davis and Bill Overton on trumpet and saxophone, respectively. He toured Japan three times, playing clubs and festivals, then embarked on three tours of South America, two tours of Europe, plus jaunts to Canada and Mexico.
Breezy's first Delmark Records album, "Sometimes The Blues Got Me," sparkles throughout with clean guitar lines, masterfully played, and with plush, richly layered arrangements in which horns evoke the early orchestrations of T-Bone and B.B. Incorporating lump, swing, jump, early double shuffle, ballads and funk, the hard working, ambitious Breezy Rodio displays his mastery of the guitar while spanning the breadth of his interests, from 1940s jump blues to today's funk-tinged urban blues. It sure seems that "The Blues" has got Breezy Rodio more than just 'sometimes.' It's got him good.
In 2019 Breezy released his second Delmark Records album "If It Ain't Broke Don't Fix It" receiving rave reviews all over the world. The album charted among the top fifty albums of the year (Living Blues Chart). In March 2022 Breezy got together with Texas guitar legend Anson Funderburgh and recorded his latest album "Underground Blues;" 14 originals of what Anson called "Chicago West Side Modern Blues." Breezy recently signed to European booking agent, On The Road Again.
WEBLINKS
OS: www.breezyrodio.com FB: www.facebook.com/breezyrodio TW: www.twitter.com/breezyrodio IG: www.instagram.com/breezyrodio
NOTE TO RADIO
Radio Single: 5. That Damn Cocaine
Additional recommended radio tracks: 3. Underground Blues, 2. C.H.I.C.A.G.O.
Betsie Brown, Blind Raccoon,
betsie@blindraccoon.com