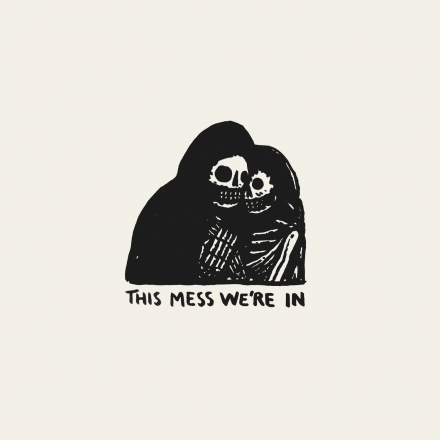 Arlo McKinley Announces

This Mess We're In
New Album Out July 15th on Oh Boy Records
V2 Records

Arlo Joins Oh Boy Records UK & EU Tour
June 14th - 22nd, 2022
London, Manchester, Glasgow, Dublin, Hamburg & Amsterdam
Today, Arlo McKinley announces the release of This Mess We're In: a new album, a long look in the mirror, and an internal compass navigating the next chapter of his storied life and burgeoning career.
Out July 15th on Oh Boy Records, the follow up to 2020's acclaimed Die Midwestern makes a compelling argument that bad days really do get better, that love is still alive. Across the 11 tracks, captured at Memphis' famed Sam Phillips Recording Service and produced by Matt Ross-Spang (Margo Price, Jason Isbell, St. Paul & The Broken Bones), the Cincinnati songwriter emerges from the bleak, emotional fog that hung over his past two years. From the passing of his mother and best friend, to multiple others taken by the devils of addiction, McKinley drew inward for comfort, using the music as a way to orient himself in an uncertain world.
On first single 'Stealing Dark From The Night Sky', out now, Arlo McKinley tells a vivid story of both a breakdown and a bender, trying to outrun the sunrise with a lover who might be able to make the pain just a little bit better. Watch the video gorgeously animated and directed by Matt Reynolds (Adult Swim).
Backed by an ace band that includes drummer Ken Coomer, guitarist Will Sexton and keyboardist Rick Steff - as well as the new addition of cinematic string arrangements, showcasing Arlo McKinley's feel for the romantic melancholy of inspirations like Nick Cave, Nick Drake and Wes Anderson - the songs on This Mess We're In take their time to reveal their secrets. Through the warm, oaky voice and lyrical talent that won over John Prine at Nashville's High Watt back in 2019, Arlo McKinley possesses a special ability to make his listeners feel seen and recognized.
Garnering comparisons to Tyler Childers, Jason Isbell, Sturgill Simpson and more, he has been told that his music has helped fans through several tours in Afghanistan, and battles with brain cancer. While he credits these personal connections to the unflinching truth he brings to his songwriting, on This Mess We're In he explains:
"I'm private with a lot of things I go through, but in my songs, I'm honest about everything. So I started to write as a way of getting stuff out. To me, This Mess We're In is a growth record. I was navigating through a pretty bad time, but also there was the realization that it's time to really change. My last album was me figuring out whether to stay or go from a very confused spot in my life. This one is trying to better myself - as a musician, as a human being, as a friend. I hope listeners can identify with the things they're too ashamed to talk about or feel. There's such a stigma that goes along with things like addiction and mental health. I just want them to know that I go through all of that too. At least for the 47 minutes of the album, you can remove yourself from the world and just let everything disappear for a bit."
Between growing up singing and playing guitar in a Baptist church, cutting his teeth on the midwestern DIY and punk rock circuits, and working a job delivering tuxedos on long drives between Cincinnati and Detroit, Arlo McKinley has always felt most comfortable on the road, writing and performing his own music.

Oh Boy Records, started by the late John Prine, announces UK & EU Tour, "Oh Boy Goes To Europe." The tour will feature the brilliant Arlo McKinley, Emily Scott Robinson and Kelsey Waldon. They will be stopping in London, Manchester, Glasgow, Dublin, Hamburg & Amsterdam from June 14th - 22nd and will see John's wife Fiona Prine host select evenings.

Arlo will head to the UK in June as part of the "Oh Boy Goes To Europe" tour, featuring Emily Scott Robinson and Kelsey Waldon. They will be stopping in London, Manchester, Glasgow, Dublin, Hamburg & Amsterdam from June 14th - 22nd and will see John's wife Fiona Prine host select evenings. All three artists will perform sets packed with new music - each night concluding with a group performance of a John Prine classic. The Hamburg date will also see a very special and rare additional performance from Oh Boy's longest-signed artist Dan Reeder.

The Oh Boy Records tour will take place on the following dates:
JUNE
Tue 14th Germany - Hamburg, Nochtwache
Wed 15th Netherlands - Amsterdam, Tuinzaal (Paradiso Noord)
Thu 16th UK - London, St Pancras Old Church
Sat 18th UK - London, Old Blue Last
Sun 19th UK - Manchester, Gullivers
Tue 21st UK - Glasgow, Oran Mor
Wed 22nd Ireland - Dublin, The Workman's Club

For more information contact - Stefan.Hayes@v2benelux.com