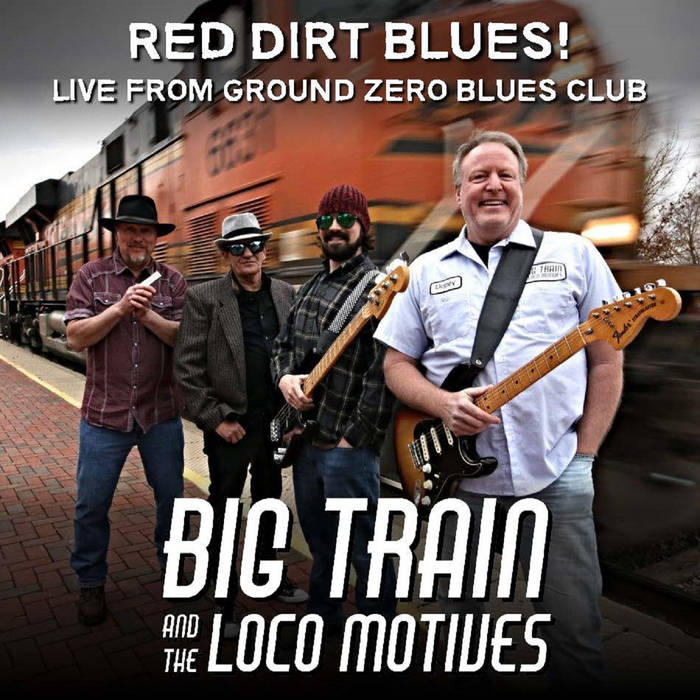 Big Train and the Loco Motives are ready
to bring their up-tempo

blues show to you!
Recorded Live at during the 2021 Sunflower River Blues Festival on the iconic Ground Zero Blues Club stage.
Released December 1, 2021
Big Train and the Loco Motives bring you "
Red Dirt Blues
". It's that sound of traditional Mississippi Delta Blues mixed together with Texas Boogie Woogie and Chicago Electric Blues. Then sprinkle with a little red dirt found in the sounds of Oklahoma natives Leon Russell, D.C Minner, Elvin Bishop,
and Watermelon Slim and…TA-DA!!
The Band:
Mason "Thumper" Cullen - Bass
|
Bill "Top Dog" Cummins - Harmonica
Mike "Pinebox" Lander - Percussion
|
Jimbo "Big Train" Madsen - Guitar/Vocals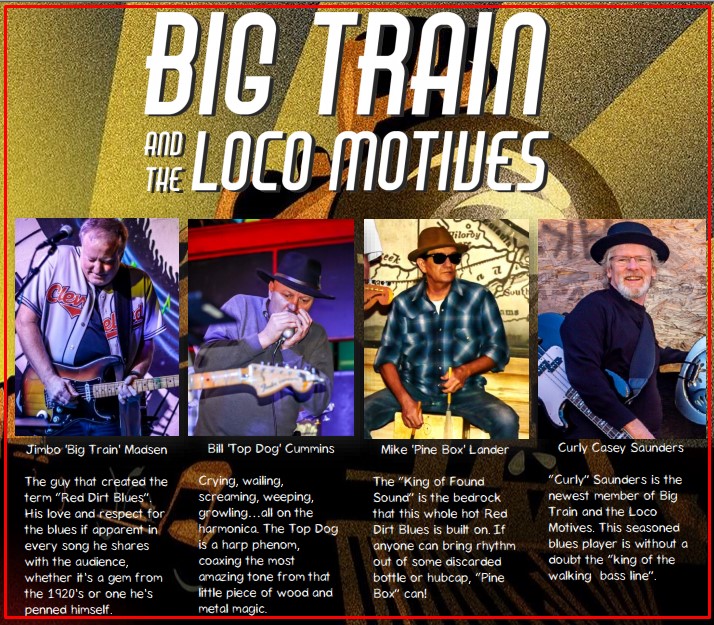 The blues started early with Jimbo "Big Train" Madsen from when he first picked
up a guitar when his age was still counted in single digits. The music manifest in
different ways through the years, but the one thing that remained constant in
everything he played was the bedrock of the blues.
The start of the Loco Motives can be traced back to 2010 when percussionist
Mike "Pinebox" Lander joined Madsen on stage for a Norman Music Festival
event, and the two have shared the same stage ever since. Add in the solid bass
of Casey "Curly" Saunders, a former touring musician, and the harmonica
gymnastics of Bill "Top Dog" Cummins, and you have one kick ass blues band.
Big Train and the Loco Motives music is deep seated in the roots of the
blues, due in part to annual pilgrimages to the cradle of the blues in the
Mississippi Delta. There they hear the whispers of Charlie Patton, Robert
Johnson, Son House, and Bukka White as they soak up the mojo that is palatable
in streets, juke joints, and graveyards.
Big Train and the Loco Motives play what they coined "Red Dirt Blues". It's blues
flavored by the red soil of Oklahoma, but always in homage to the blues artists
who came before them. They cover everything from traditional Delta Blues to
Texas Boogie-Woogie, from the south side of Chicago Blues to the Jump Blues of
the west coast.
And while you can't hide behind "3 chords and the truth", their love and
enjoyment of the music is on full display. Sure, it may be hard to nail them down
other than they totally enjoy keeping the clues alive, it's guaranteed that
everyone who shows up in the audience will also enjoy the show.
Review of this album: HERE ►►