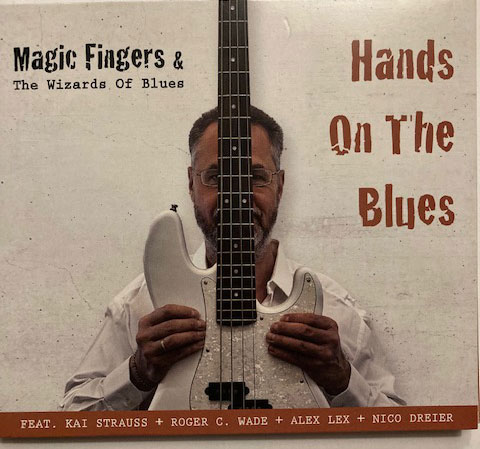 Magic Fingers & The Wizards Of Blues – Hands On The Blues

I've been a professional musician since 1990. I have played in various ensembles of the most varied of styles. I studied jazz in Arnhem and played country, pop, rock and funk.
In addition to many cover bands, I have also accompanied choirs of all kinds, from traditional male choirs to gospel choirs. Top 40 and gala bands were my main source of income in the 90s. In addition, since 1987 I have been teaching bass in my own bass school with locations in Solingen and Wuppertal, germany.
But my real love belongs to the blues.

Due to the pandemic, all concerts were also canceled for me. However, I got a grant for a CD production. I then used this to make a dream come true. I wanted to record an album with the best german blues musicians. So I contacted musicians whom I value very much and some of whom I already knew:

Kai Strauss (voc & git)
Roger C. Wade (voc & harp)
Nico Dreier (piano & organ)
Alex Lex (drums)


Fortunately, they all agreed. So I was able to record this album with them in just two days in September 2021.
Tracks: 01: Empty Arms 02:You Don't Have To Go 03: Help Me 04: Cleo's Mood 05: Just Your Fool 06: Ain't Going Back 07:Why Do Everything Happen To Me 08: Whiskey Drinking Woman 09: Who's Been Talking 10: Airline Blues 11: Stay At Home 12: One August Day 13: The Final Moaning
This recording session was a lot of fun for everyone involved, the chemistry was right from the start. I am very grateful for that, because that is not something that can be taken for granted.
I am more than happy with the result, it exceeds my hopes by far.
And Kai Strauss even said that he would be happy if we could repeat that at some point. Specific concerts or a tour were not originally planned, as all the musicians involved are on the road a lot outside of the pandemic, and it would probably be difficult to get everyone under one roof in terms of time. The implementation of the CD raises the question of it, especially since many CD buyers are already asking when this program can be experienced live on stage.
I don't have a distributor for the CD yet, I'm looking. Until then, the CD will be available for self-distribution.
Shop: info(at)bass-seminar.com
Recensie door Bluesmagazine: Andre Wittebroek