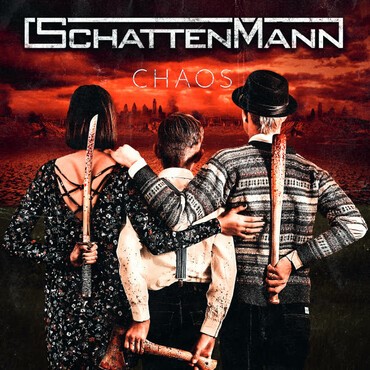 SCHATTENMANN - Chaos Genre: NDH / Dark Rock
Format: Digipak, Ltd. Boxset + Digital
Release Date: 5th November 2021
Label: AFM Marketing
Distribution: Suburban / Bertus
Producer: Frank Herzig & Felix Held
Promotion: The Rock Online
Line-Up Frank Herzig (Vocals), Jan Suk (Guitar), Luke Shook (Bass), Nils Kinzig (Drums)
It's frequently the third album that decides the future direction of a band. While the debut and follow-up albums are usually considered to mark the beginning of a hopeful career, the third album indicates where the journey is heading. With their most recent release, their third album 'Chaos', the band Schattenmann, helmed by vocalist Frank Herzig, unmistakably prove: the content of their music is getting tougher, more metal-oriented, more multi-faceted and more uncompromising.
Herzig: "'Chaos' has us deliberately expand our sound to include modern and more original elements. We don't want to limit ourselves musically, but have included metal and industrial influences in our new material. The beginnings of this development were already present on our 2018 debut 'Licht an', and one year later on 'Epidemie'. 'Chaos' sees us take it to the extreme and look beyond the obvious." The arrival of the new album has been scheduled for 5 November 2021, with the song/video 'Choleriker' released as lead single.
The single 'Cosima' will be out on 25 June 2021, followed by 'Abschaum' on 6 August and 'Spring', supported by a number of surprise guests, on 24 September (more on that later). 'Chaos' will be the decisive third step in Schattenmann's career, moving with unyielding consistency the essence of the new material into the focus of their uncompromising sound. Herzig: "Due to the fact that almost all new songs were composed on the guitar, the material sounds more metal-oriented, heavier, you could say: it's more crash, bang, wallop!" The Schattenmann frontman is referring to numbers such as 'Spring' or 'Alles auf Anfang', but also to 'Abschaum' and 'Chaos' with their unmistakable metal roots, which contrast with a pop-oriented number like 'Cosima' and Schattenmann-typical tracks such as 'Amnestie' and 'Extrem'. In line with its musically harsher pace, the lyrics on 'Chaos' are also honest, direct and straight-in-your-face.
"Socio-critical topics are nothing new for us, 'Generation Sex' and 'Amok' on our debut already touched on a number of sore points," Herzig explains, "but this time the lyrics are even more focussed and direct. We question things, comment on negative developments, excesses, the underbelly of society, ranging from social deficiencies to self-hatred." He is referring to tracks like 'Cosima' with its underlying question of whether love is still needed in the digital age. On 'Alman' and 'Abschaum', Schattenmann highlight the positive and negative sides of society, before 'IYFF' focusses on another brand-hot topic: "
The acronym stands for 'In Your Fucking Face' and addresses the deplorable trend of shitstorms on social media. Mind you, the term "social media" is a contradiction in itself. Social is definitely not what happens on the Internet a lot of the time." It's obvious that 'Chaos' has sharpened the profile of Herzig and his band mates Jan Suk (guitar), Luke Shook (bass) and Nils Kinzig (drums), refined their musical and thematic standards even further and given the songs something very special courtesy of their unusual instrumentation. And last but not least: 'Spring' features a collaboration with J.B.O.'s Veit Kutzer and Hannes Holzmann. Says Herzig: "Musicians know each other, and nobody got past J.B.O. when we were younger. So we asked them to guest on our single. I think their voices give 'Spring' amazing power." That power is omnipresent throughout the album. From the opener 'Die Ruhe vor dem Sturm' to the final 'Komplett auf Anschlag', there's every sign of a storm brewing. All those who already had Schattenmann on their radar will be ecstatic. Everyone else will be positively surprised by a band that has made a quantum leap on 'Chaos'!(Author: Matthias Mineur)
Tracklisting CD or DVD: (00:49:06) 01 - Die Ruhe Vor Dem Sturm | 02 - Chaos | 03 - Abschaum | 04 - Extrem | 05 - Alles Auf Anfang | 06 - Choleriker | 07 - Cosima | 08 - Spring (Featuring J.B.O) | 09 - Amnestie | 10 - Voodoo | 11 - Alman | 12 - Wir Gehorchen Nicht | 13 - IYFF | 14 - Jetzt Oder Nie | 15 - Komplett Auf Anschlag | https://www.schattenmann.band https://www.facebook.com/schattenmannband