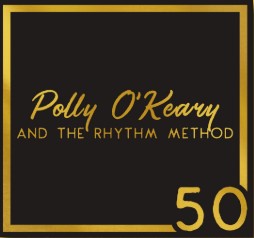 Release: Polly O' Keary And The Rhythm Method " 50 "
All songs written by Polly O'Keary and the Rhythm
Method
BC 2019 Self-Produced CD Finalist
LA Music Critic Best Blues Band 2019
23 Awards from the Washington Blues Society

This is a big year for Polly O'Keary and the Rhythm Method, Seattle's top nationally-touring blues rock trio. Every member of the band turns 50 this year, a milestone celebrated by the album's succinct title......
The album, the band's 6th, include 11 original tracks that reflect the hard-won wisdom, experience, and skill that the highly acclaimed trio has earned in decades on the road and in the studio. This year also marks Polly O'Keary's Washington Blues Society nomination for Hall of Fame for her distinguished career as a songwriter, vocalist, bassist, and bandleader. And this album is the band's first to showcase guitarist Dave Miller as a lead vocalist on three original songs.
A theme throughout the album is reflections on a life in music and on the wrong side of the tracks. Miller weighs the costs of a life in music in Smilin' on the Day I Die. Polly's familiar waspish humor appears in ABC Blues, in which she ruefully reflects that learning even the basic life lessons has taken her "the better part of 50 years." In Too Much Like I Care, Polly muses about an old flame come back to town in middle age.
1.Brand New Day 04:10
2.Too Much Like I Care 04:33
3.Can't Catch Me 04:15
4.Smiling 06:11
5.You Better Think 03:59
6.People On The Corner 05:38
7.Strange Way Of Showing Love 05:44
8.ABC's 03:24
9.I'm Not Guilty 05:55
10.Love N Waiting 04:13
11.American Highways 0
Frank Roszak
KBA Recipient 2014 PUBLICIST
www.frankroszakpromotions.com