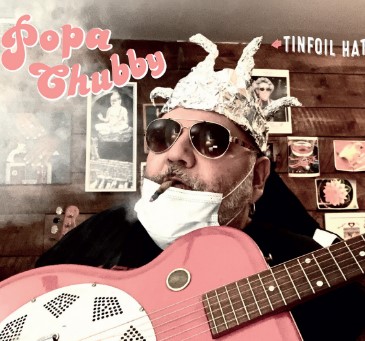 Release: Popa Chubby "Tin Foil Hat"
EUROPE:

March 12,

Dixiefrog Records
NORTH AMERICA:

March 31,

Popa Chubby Productions
Popa Chubby: All instruments and vocals
We got off the road on March 12th, 2020 last show was in Key West Florida.
I started writing songs. I wanted to make people feel better so the first was "Can I Call You My Friends?" The answer was a resounding yes.
We had 30K hits on social media almost overnight and the outpouring of love was both healing and mind boggling. So I continued writing and recording. No musicians in the studio so I had to use my skills, my balls and my soul. All I had! Luckily there was a never ending flow of ideas that stemmed from what was going on in America and the world.
Tracklist: Time 47:47
1 Tinfoil Hat 4:11
2 Baby Put On Your Mask 2:46
3 No Justice No Peace 5:07
4 Someday Soon (Change Is Gonna Come) 4:15
5 Can I Call You My Friends? 3:53
6 You Ain't Said Shit 3:21
7 Another Day In Hell 6:09
8 Boogie For Tony 4:42
9 Cognitive Dissonance 4:27
10 Embee's Song 4:26
11 1968 Again 4:28
All songs T. Horowitz,
Written, recorded, produced and engineered by Ted
Horowitz during the period March 16th to Sept 29th 2020
Recorded at Chubbyland Laboratories in the Hudson
Valley, New York
This record is dedicated to the memories of all the souls
who departed this mortal coil due to Coronavirus disease.
May truth be our light to guide us through this dark night.
For more about Popa Chubby and his New York City
Blues check out www.popachubby.com
facebook.com/popachubbyband
BOOKING
Intrepid Artists Int'l, Inc.
704.358.4777 • staff@intrepidartists.com
PUBLICIST
Frank Roszak, KBA Awardee 2014
www.frankroszakpromotions.com