This trio of six-string guitar beasts are accompanied on the album by drummer Jeff Simon and bassist Nathaniel Peterson, both fine musicians in their own right.
The band's name derives from the term Texas scratch, which is a style of guitar picking (also known as the Carter Scratch) said to have originated by Mother Maybelle Carter back in 1927.
Their combined efforts have resulted in a debut album consisting of – obviously - fiery, passionate guitar licks everywhere you turn, soaked in the blues and kicked in the ass by the blues-rock they all love to play.
Some of the song titles on the album alone lets the listener know what they are in for – What the Devil Loves, Trip Hammer, Showdown and Louisiana Cock Fight – give a few clues as to what to expect musically.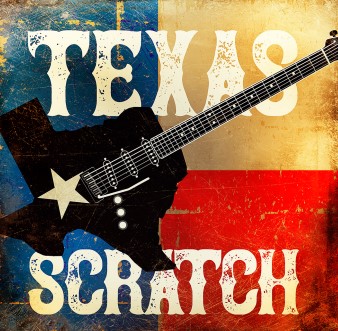 But the album is far from just a six-string shootout or shredding contest between top gun guitarists; the nine total songs on the album feature seven original songs written by a combination of Suhler, Whittington and Converse with killer arrangements, passionate vocals, tight ensemble playing, and clever lyrics. One can hear the mutual sense of love and joy for the music in the band's playing and singing together.
But, given the level of talent in this band, none of the musical goodness that flows from this album should come as any surprise.
Suhler's and Simon's day jobs are longtime members of George Thorogood and the Destroyers…in fact, Simon is an original member of The Destroyers (he co-founded the band with Thorogood in 1973) and Suhler has been a Destroyer since 1999. Suhler is also a founding member of the band Monkey Beat since 1991.
Whittington recorded and toured with blues legend John Mayall for 15 years before heading off to an acclaimed solo recording and touring career in 2008 that continues to this day.
Converse made his bones with heavy blues-rock power trio Sunset Heights, touring with acts like Johnny Winter, Peter Green, Fats Domino, and Kenny Wayne Shepherd. A devoted blues musician, he now kicks ass with his band, Vince Converse and Big Brother. And Nathaniel Peterson shone brightly as a member of Savoy Brown.
For one reason or another through the years -- be it music industry woes, conflicting gigs, budget issues, and most recently, the pandemic -- this hot blues album never got its release. That didn't stop the stories from spreading throughout the music world about what a tremendous album this was.
Recorded in October 2009, the album's release took 14 long years to finally see the light of day as the musicians initially got together in New Jersey to jam and lay down each other's tracks at the legendary Showplace Studios in Dover, NJ. The album was recorded in four days and produced by the late, great Ben Elliott.
Each artist had never played the other's original tunes before, so they had to learn their parts in record time. There was literally little or no time for rehearsals since each artist and the studio had other obligations to tend to.
What ended up being recorded is an album full of the kind of guitar-slaying, foot-tapping modern-day blues music that lovers of this music can never get enough of.
"We're thrilled to be the label that finally releases this legendary album," says Quarto Valley Records President & CEO Bruce Quarto. "Texas plays such an integral role in the history of blues music. So many great blues musicians hail from the Lonestar State - Freddie King, Lightnin' Hopkins, T Bone Walker, Johnny and Edgar Winter, Stevie Rae Vaughn and Billy Gibbons -- just to name a few. It's only fitting that these three stellar blues shredders, Jim, Buddy and Vince, while a part of that history in their own right, join the list as Texas Scratch!"
TEXAS SCRATCH (Track Listing/Credits)
Texas Trio 2:51 Written by Buddy Whittington | Published by Whittingtunes (ASCAP)
I'd Rather Be Lucky Than Good 4:32 Written by Jim Suhler & Tom Hambridge | Published by Papa Charlie Music BMI & Hambridgetunes (ASCAP)
What the Devil Loves 3:35 Written by Fred Koller & Thom Bishop | Published by Songs of Mojo 1 (BMI) & Buffalo Road Music/Songs of Polygram International Inc BMI
Trip Hammer 4:34 Written by Jim Suhler | Published by Papa Charlie Music (BMI)
Purple Mountain Flask 5:12 Written by Jim Suhler | Published by Papa Charlie Music (BMI)
Louisiana Cock Fight 3:40 Written by John Nitzinger | Published by Fancy Space (BMI)
Do Right by You 6:33 Written by Vince Converse | Published by Vince Converse
Ain't Got The Scratch 3:54 Written by Buddy Whittington | Published by Whittingtunes (ASCAP)
Showdown 3:51 Written by Jim Suhler | Published by Papa Charlie Music (BMI)
ABOUT QUARTO VALLEY RECORDS

Founded by tech entrepreneur Bruce Quarto, the California-based independent label Quarto Valley Records represents Rock, Blues, Jazz and Americana genres with an impressive artist roster featuring legacy musicians Paul Rodgers, GRAMMY® award-winning Edgar Winter, and Savoy Brown as well as the legendary talent that comprises The Immediate Family, GRAMMY® award-winning producer and renowned drummer and songwriter Tom Hambridge, GRAMMY® award-winning producer and percussionist Narada Michael Walden, blues-rock artist Sean Chambers, British blues sensation Bonham-Bullick, Wings member Denny Seiwell, acclaimed Americana singer-songwriter Al Staehely, Texas Scratch, the esteemed and soulful Richard T. Bear, and emerging artist Dominic Quarto. https://quartovalleyrecords.com