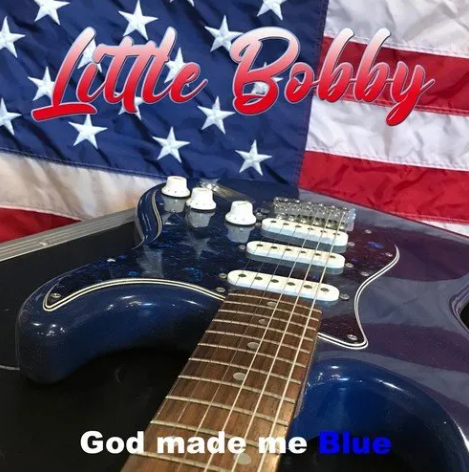 Little Bobby - God Made Me Blue
Produced by: Untouchable Productions
This album contains a perfect mixture of blues, rock, country and R&B, sure to appeal to any genre lover.
Lydia Rose, a young local singer with a beautiful, soulful voice that will certainly make any listener feel the blues, makes her album debut on the title track "God Made Me Blue" and the vocals on "My Favorite Mistake".
The late Ashly Nupdal is featured on the last track "That Ain't Right." This song was written for her and recorded a couple years before she passed away from breast cancer in 2018.
Award winning saxophone player Maury Finney provides that perfect smooth touch to the songs "Dream" and "Just Like My Old Man," a song Little Bobby dedicated to his father, Big Bobby. This tune has a lot of heart and soul with a raw blue edge to it and just a taste of that '80s country-like Hank Williams Jr. swagger.
Multi-Instrumentalist Little Bobby wrote all eight original songs for this album. He does vocals (on six tracks), plays lead and rhythm guitar, bass, drums and piano on each track.
Little Bobby is now located in McIntosh, MN where he owns and operates one of the best live music venues and only music museum in northern Minnesota, Little Bobby's Bar and Grill. The historic building also houses Little Bobby's state-of-the-art recording studio, Untouchable Productions. You can buy/order T-shirts, CD's and DVD's in person or by mail at Little Bobby.
Musicians:
Little Bobby-Lyrics, Vocals, Lead
Guitar, Rhythm Guitar, Bass guitar,
drums, piano
Lydia Christianson-Vocals on tracks
1 and 5
Maury Finney-Saxophone on tracks
3 and 4
Ashley Nupdal-Vocals on track 8
Track List
1. God Made Me Blue 4:02
2. I Feel Like Drinking5:21
3. Dream 3:34
4. Just Like My Old Man4:41
5. My Favorite Mistake3:40
6. Bring Back The Old School 3:45
7. Hold On 3:16
8. That Ain't Right 4:45
www.little-bobby-music.company.site.
Social:
Facebook: Little Bobby–www.facebook.com/little/bobby.336–
Spotify: https://open.spotify.com/artist/6NpsIT4bI8T7FAjFONigtP
B I O
Born in Red Lake, MN and raised in Thief River Falls, MN, blues musician and multi-instrumentalist Robert Houle III has hit the blues charts with his new album, "God Made Me Blue."
Little Bobby is a third generation Native American musician who has followed in his father's and grandfather's musical footsteps. Little Bobby's music interest is a family affair. From his father Robert Houle II ("Big" Bobby), to his grandfather, Robert Houle, (MN Music Hall Of Famer) and to all his cousins that are musicians in some way, it's no surprise that Little Bobby is one himself. His first instrument was a set of drums he got from an aunt and uncle. His passion soon changed as he was turned on by the sound of the guitar style of Jimmy Page and Jimi Hendrix.
Of course, there was going to be diversity in this story…Little Bobby ended up serving time in prison where his blues story actually begins. While doing time, Bobby met a native brother who said, "You have a blues voice!" After already being mostly self-taught, that improvising blues style seemed like a natural fit to the youngest Robert Houle. In 2005, Little Bobby released his first CD "Before The Storm." Later that year he landed a spot on the Last Ride Blues Festival in his home town of Thief River Falls, Minnesota which featured blues legend Buddy Guy. What a way to kick off a blues career!
Since then, Little Bobby has released a handful of blues albums including "Down, Dirty & Mean" (2007), "I've Got A Woman" (2009), and a live DVD "A Night At The Empire" (2009). At the end of 2009, Little Bobby hooked up with Nora Jean Bruso. Nora Jean and Little Bobby started doing concerts and touring. They performed at the RAWA Blues Festival in Katowice, Poland and in the USA at the Chicago Blues Festival where the Chicago Sun Times rated Nora Jean & Little Bobby the number one band to see. In 2011, the two put together the CD "Good Blues" which Little
Bobby not only played on but wrote and produced. The album not only appeared on the blues charts but helped push Nora Jean to her 7th BMA nomination for "Best Traditional Female Blues Performer."
From there, he went on to release more albums including "Life of the Blues" (2010), "Showbiz" (2015), "Super B" (2016), the single "Grow Old With You (2018), a autobiographic DVD "Music Is My Life" (2018), "Simple" (2020) and his newest release, "God Made Me Blue" (2022).
He's now on every jukebox in the world and the only artist from Minnesota to be featured on the largest syndicated blues show in the world, "The Beale St. Caravan Radio Hour" (2009). Since the release of "God Made Me Blue" he's been on 1,700 blues stations all over the world including The Blues Odyssey in Washington, The Mayflower Hills Blues show in Maine and Sittin' At The Crossroads in Louisiana, all in the USA. He was featured on the Black and
Blues Show in the Netherlands,The Monster Blues Show and the Bear Blues Show in the UK, and The Sunday
Morning Hangover Cure in Canada just to name a few.
This album entered the Roots Music Report charts at #28 for the Top 50 Blues Albums and #17 on the sub-genre Top 50 Contemporary Blues Albums and held those positions for two weeks then moved to #6 and #3 respectively as of Dec. 19th. Under the Top 50 Blues Songs and Top 50 Contemporary Blues Songs categories, "Hold On" is at the top of both song lists as of Dec. 19th. Almost all the songs from the album are on at least one of these lists[1].This album was also Album of the Week on The Bear Blues Show and ranked #37 on the Top 40 Most Played Album[2].
Little Bobby was recently picked up by the world wide syndicated Blues Show, Blues Deluxe which has 66 channels all over the world and will be played on these stations between Dec. 26th and Jan. 1st. In this show's playlist, his song "Hold On" from his new album "God Made Me Blue" is featured between Jimi Hendrix and Tom Petty. The
Michael Burks band will be rounding off Little Bobby's sound and they will begin touring together in 2023.