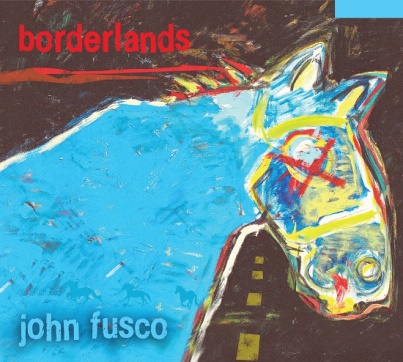 John Fusco's New Album, Out October 21, Is a Wild Ride Through the Borderlands of American Roots Music
Filmmaker-Musician's Third Album Is a Bluesy, Tex-Mex-Flavored Exploration of Southwestern Mythos Across Space and Time
Pre-Order Borderlands Here:
https://lnk.fu.ga/johnfusco_borderlands
Born out of pandemic soul-searching, acclaimed filmmaker/singer/songwriter/ musician John Fusco's new CD, Borderlands, which releases October 21 on Rocket 88 records, is (as befits his screenwriter lineage) a cinematic storytelling of the American southwest, a region branded by distinctive character traits from the historical mirage of Manifest Destiny; or, as Fusco, himself, puts it, "the Wild West soul of America.
Part hard-bitten grit, swirling dust and laden with ancient gospel overtones and blues themes, Borderlands brings an existential reckoning for individuals caught up in their past and faults, and uncertain of the road ahead. Fusco calls it "a kind of peyote passion play."
Like the storytelling in his film work – which includes such iconic productions as Crossroads, Young Guns, Thunderheart, Hidalgo, and The Highwaymen – Fusco's music is reinforced by a steady stream of images. Much of that has showed up on his two previous CDs: John Fusco and the X-Road Riders (2019) and his 2021 double album, John the Revelator.
Once again it is Fusco's compositions that build a musical palette for his throaty vocals, piano and Hammond B3 playing. The music was arranged by George Walker Petit, Fusco's distinguished producer-musician-engineer friend who has worked on recordings by Boz Scaggs, Michael McDonald and Terrance Blanchard, as well as scores of other top-name artists.
Petit was able to accentuate Fusco's songs with a truly Americana approach that includes elements of blues, gospel, alternative country, and Latino music shadings. And, with Fusco's song poetry, the music and words can't avoid generating vivid imagery and an overarching narrative.
"I'm a storyteller who writes across mediums," Fusco says. " I was trying to give musical form to some emotions and questions about our broken country today, and telling a story seems to help me release that and frame those questions on a visceral level."
Fusco's early dream was to be a musician, a life he captured in 1986's Crossroads, his semi-autobiographical movie about a young guitarist stirring blues ghosts and powers from deep in Mississippi. Fusco's screenwriting career had held precedence until just a few years ago when Cody Dickinson, the North Mississippi Allstars co-founder who produced Fusco's debut album, encouraged his musical talent.
"Cody heard my songs and said that storytelling is missing in modern songs and that I should do more of that," Fusco says. "And, during the pandemic, I had a lot of time to think about the soul of America and the legacy of white lies," he says. 'We have these hard truths about the border wall, immigration, racism, and hate crimes that made me reflect on the myth of the great frontier versus the darker agenda — which endures today."
Being a part-time resident of Tucson, Arizona (since his hit Young Guns films) drew Fusco to the southwestern setting.
The linchpin of Borderlands is "Horseback Jesus," the first song written for the album: a saddle-bound, brown-skinned stranger who wants to save souls who prefer their raw notions than any suggestion that they could have a better spiritual existence in unity. His actions lead to his senseless and ruthless murder. Soon he would have songs such as "Coyote Man," an alien guide who abandons his migrant clients in the desert while taking their money; another about a wicked saloon owner who seduces her piano players with drugs, alcohol and sex only to jettison them when she meets her next piano man. Other songs hew to the desert setting while crossing time periods, such as the modern Texas blues tale of a traveler determined to outrun his demons and misfortunes by racing down a desolate highway in his Buick; and a country rock parable of cultural exploitation by a self- proclaimed indigenous shaman cashing in on heritage, myths and dreams on the innocent, who ultimately finds his reckoning through a peyote-fueled hallucination that punishes his abuse with a death-sentence.
"I had this narrative composed, but left it to George to figure out the best way to present it," Fusco says. "He has such a vast musical background and range that he is really able to find exactly what suits the music and intent best. And, he was obsessed by it. I'd get 4 a.m. emails from him with suggestions and ideas and he really was able to find the right approach for each." Petit's arrangements draw from diverse approaches – mariachi horns here, bluesy slide-guitar there, with flamenco and coyote howls and lilting country-rock. Petit is the primary guitarist and sole bassist on the album, occasionally adding percussion, which was all recorded in his private mountain studio. Russ Lawton (Trey Anastasio Band) handles the drum chores, while fifth-generation Acadian fiddler and mandolinist Patrick Ross boosts the alt. country songs, Matthew Backer's slide guitar and dobro adds blues depth, and Stuart Paton handles conga and bongo rhythms. Jane Boxall produces some notable marimba flourishes to the music and singer Ashley Betton's haunting background vocals with Fusco on the traditional "Ain't No Grave" are stirring.