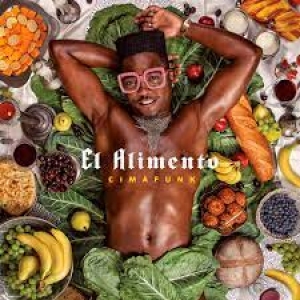 CIMAFUNK - EL ALIMENTO
(Thirty Tigers)
Release date: Friday, October 8th 2021
Helmed by Grammy winning producer Jack Splash and featuring collaborations with Lupe Fiasco, CeeLo Green, George Clinton, ChocQuibTown, Stylo G, Chucho Valdés & El Micha – the dance inducing celebration of Black Music masterfully blends Afro-Cuban rhythms with Funk, Soul & Hip-Hop to provide a feast of musical & cultural nutrients to feed our spirit.a visionary musician & the future of Cuban funk - one of the most dynamic performers I have seen" – NPR
"Cimafunk represents Havana's modern street sound: an electrifying combination of funk & soul" – Rolling Stone
"irresistible & inescapable... Cimafunk is Cuban Music's center of attention… a longtime fan of American funk, he recently sought out George Clinton, an idol of his since childhood, for a hang and a recording session.
The result is 'Funk Aspirin,' a bilingual paean to the healing powers of rhythm" – New York Times
- - - - - - - -
Sure to be one of the standout creative and uplifting albums of the fall, Cimafunk's highly anticipated second album, El Alimento ('The Nutrient'), is complete and set for release on Friday, October 8th. In celebration, Cimafunk is providing another advance taste of his evolving Afro-Cuban funk fusion with today's all platforms release of second single Caramelo ('Candy'), an upbeat, captivating dance track with a colorful music video filmed in Mexico City and Miami. This follows close behind the still buzzing recent prescription of Funk Aspirin - a dream collaboration with George Clinton.
"I'm really excited about El Alimento. I think it marks a before and after moment in terms of my sound and the whole Cimafunk concept. It's an experiment; one that's very organic. My brother Jack Splash and I let the music go where it wanted to go, and we followed. The collaborations on the album came about naturally through friendships, admiration and real synergy. We set things off with the godfather of funk George Clinton on Funk Aspirin, and now we're following with a real banger in Caramelo.
I can't wait til' October 8 when people can listen to the whole album" - CIMAFUNK
The 13-track album is produced by Grammy Award-winner Jack Splash (Kendrick Lamar, Alicia Keys, John Legend, Solange, Jazmine Sullivan, Goodie Mob, Valerie June, Tank & the Bangas), who calls the result of El Alimento "fearless," stressing that the approach he and Cimafunk took to the music "breaks down lots of musical boundaries."
"It's been very special to work with Cimafunk, who loves, represents and mixes ALL of the different vibes of the African diaspora into his music. Cimafunk and I are both deeply dedicated to the funk, but we both also really love Afrobeat, classic soul, hip hop, dancehall and of course all of the amazing different styles of traditional Cuban music. Our main goal when starting this project was to mix EVERYTHING we loved together. No rules, no boundaries…just lots of love, funk and fun. The album is our unique love letter to both Cuba AND all of the musical masters (like James Brown, Fela, Irakere, Sly Stone & so many more) that came before us."
- Jack Splash
The sonically dynamic collection masterfully blends Afro-Cuban sounds and rhythms with global funk, hip hop and soul—resulting in a progressive, head-bopping celebration of black music's power to eclipse borders and cross-pollinate across cultures and language. Written and recorded over the last year, the album served as an alimento for the soul, a motivation to persevere through the pandemic, as Cimafunk spent countless hours studying decades of musical influences to help understand who he is musically and culturally, and thus, where he wanted this album to take him.
As innovative funk forefather George Clinton (Parliament-Funkadelic), who sings alongside Cimafunk on the opening track "Funk Aspirin," says: "Cimafunk takes it back there while keeping it in the now. It's what we do, always reinventing the Funk to keep it fresh."
Along with Clinton, El Alimento also includes collaborations with US hip hop stars Lupe Fiasco and CeeLo Green; Jamaican dancehall singer Stylo G and Afro-Colombian hip hop group ChocQuibTown; as well as Cuban musicians Chucho Valdés, an AfroCuban jazz icon and '70s funk pioneer, Los Papines, a Cuban Rumba group whose career spans six decades, and Afro-Cuban rapper and Reggaetonero El Micha.
"I'm really humbled to have so many pioneers and legends on my album, and such a strong representation of black culture in the lyrics and sounds," adds Cimafunk. "I came up listening to them, studying their music, and now I'm grooving with them on El Alimento."
ABOUT CIMAFUNK
Cimafunk became a household name in Cuba with his 2018 hit "Me Voy" which led to his designation as "Artist of the Year" by Vistar Magazine and the Lucas Award for most popular video. Part of his debut album "Terapia," "Me Voy", "Paciente" and other songs generated a frenzy, creating a movement in Havana and throughout the island, selling out venues with thousands of fans excited to dance to the groove of Afro-Cuban Funk and millennials replicating his style and appearance, one that draws heavily on his African roots and the black showmen of the 20th century.
Cimafunk's name refers to his heritage as a 'cimarrón,' Cubans of African descent who resisted and escaped slavery, as well as to the essence of his music that aims to subvert conventional sounds by innovating with rhythms. By bringing out the best in Cuban rhythms and traditions and infusing sounds and styles from Africa and the U.S., Cimafunk has created something unique and special, not only in terms of music but also with the values he stands for.
Named by Billboard as a "Top 10 Latin Artist to watch," Cimafunk stole the show at the 2019 South by Southwest Music Festival and has toured aggressively in the U.S. and Europe. Fito Paez has referred to him as "the future," and Rolling Stone described his music as "an electrifying combination of funk and soul, layered over the five-beat clave, or the heartbeat of Cuban music, brought to Cuba by enslaved people from West Africa."
Just prior to the pandemic, Cimafunk and his band received overwhelming praise for a moving performance on NPR's Tiny Desk concert series. – which NPR recently chose as one of the overall best TDC's of 2020
Cun Cun Pra, Cimafunk's recent 5-track EP, features the contagious party song Cun Cun Pra, a funky pop mover and shaker La Papa, featuring Cuban sensation Diana Fuentes, a sensual R&B remix of Parar El Tiempo, featuring up-and-coming Mexican singer Salma, Caliente, a New Orleans meets Havana horn-heavy, hip hop banger featuring Tairona "Tank" Ball and The Soul Rebels, and El Potaje, a passing of the torch tune, where Cimafunk joins living legends Omara Portuondo, Chucho Valdés, Pancho Amat and la Orquesta Aragón to brings out the past, present and future of Cuban music.
For more information contact: Stefan.Hayes@v2benelux.com