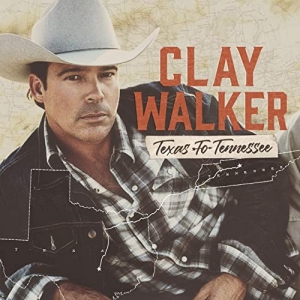 CLAY WALKER - TEXAS TO TENNESSEE
(Thirty Tigers)
Platinum-selling, hit-making singer, songwriter and entertainer Clay Walker's Show Dog Nashville debut album Texas To Tennessee will be released July 30. Produced by Michael Knox (Jason Aldean) and Jaron Boyer ("Somewhere On A Beach"), the 10-song collection's first single "Need A Bar Sometimes" is continuing to gain momentum.
Recorded in Nashville and Galveston, the album finds the native Texan embracing a number of dualities. Most notably, it finds a striking balance in reflecting the era of Walker's most prolific hitmaking – country music of the '90s and 2000s that's enjoyed a resurgence in recent years – while fully articulating modern sounds and approaches. That aesthetic is perfectly embodied in the single. Meanwhile, Walker seems to be fitting well with 2021 and beyond, amassing an astounding 750,000 TikTok followers – exceeding many of today's newer stars.
Released last year, "Need A Bar Sometimes" was quickly hailed as the song-of-the-moment for a pandemic-weary world. Driven in tandem by a processed steel guitar lick and Walker's celebrated voice, the song has amassed almost 11 million on-demand streams, is adding 1 million radio impressions weekly and has garnered almost six million views for its official and lyric videos. The video has also been No. 1 or No. 2 on CMT's 12 Pack Countdown for more than a month. Taste of Country said, "Embraces his twang, but adds just the smallest amount of contemporary production to make a mix that fits 2020."
As a songwriter, Walker has long contributed to his albums – often writing solo – and he's credited on many of his biggest hits. For Texas To Tennessee, he co-wrote each of the collection's 10 songs. "I got to write with the best writers in country music," he says. "Every writer on this album is accomplished, most came in with ideas they thought fit me or developed ideas I brought and it led to real cohesiveness in all these songs."
Texas To Tennessee joins a body of work that already includes four platinum albums, 31 charted singles and 11 No. 1 hits. Among them are "Live Until I Die," "Dreaming With My Eyes Open," "If I Could Make A Living," "This Woman And This Man," "Hypnotize The Moon," "Rumor Has It," "Then What," "The Chain Of Love," "I Can't Sleep" and "She Won't Be Lonely Long."
Tracklist:
1. Anything_To_Do_With_You03:08
2. Need_a_Bar_Sometimes02:45
3. Catching_Up_With_An_Ol__Memory03:24
4. Country_Side02:47
5. Cowboy_Loves_a_Woman03:31
6. Texas_To_Tennessee03:04
7. I_Just_Wanna_Hold_You02:59
8. Loving_You_Then02:55
9. You_Look_Good02:56
10. One_More 2:14