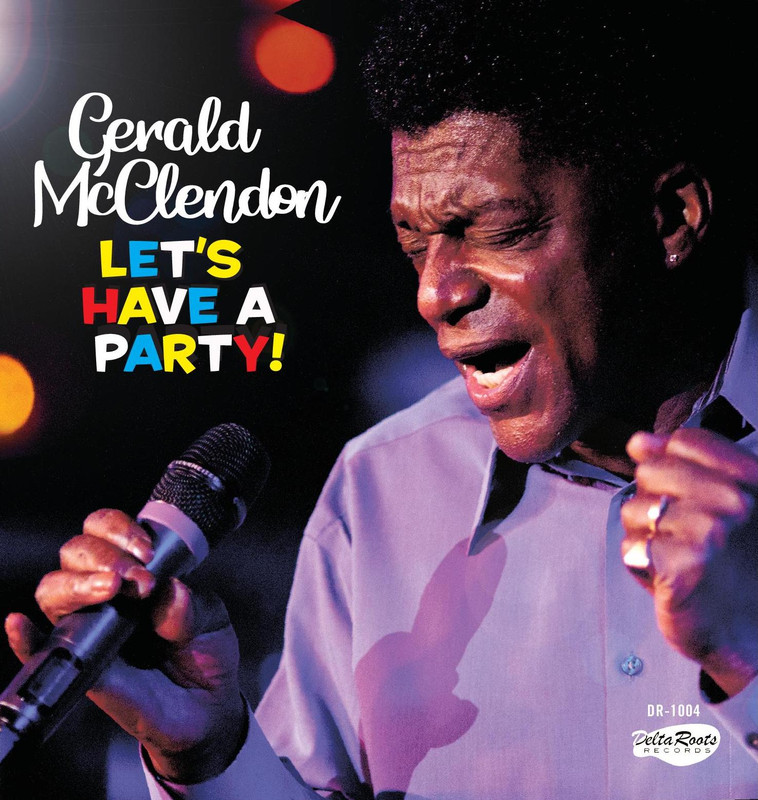 GERALD MCCLENDON - LET'S HAVE A PARTY
LABEL: DELTA ROOTS RECORDS
RELEASE DATE: JUNE 25, 2021
DISTRIBUTION: CD BABY
Radio Single: 8. Throw This Dog A Bone
Additional recommended radio tracks: 3. Let's Have A Party, 1. Keep On Keepin' On
Chicago's Gerald McClendon is the very definition of "old school." This stellar vocalist has been performing R&B and clasTusic the way it was done in the 60s and 70s by the
Masters, earning him the moniker "The Soul Keeper." McClendon returns with a new album of this "old school," Soul, Blues and R&B, Let's Have A Party, on Delta Roots Records, borrowing the title from a Sam Cooke classic, but making a statement all his own.
THe teamed up again with songwriter, drummer, and producer Twist Turner for 12 originals tracks, capitalizing on the formula they created for his successful 2020 release, Can't Nobody Stop Me Now. The duo reassembled the great team of over a dozen players to work on the follow-up project recorded at Delta Roots Sound Studios in Chicago. Drawing again on the talents of guitar men Melvin Taylor, Rico McFarland, Rusty Zinn and Joe Burba, keyboardists Tony Llorens, Sumito Ariyoshi, Brian James and Jim Pugh and incorporating The Delta Roots Horns, including John "Boom" Brumbach and Skinny Williams, and, of course, Turner handled all the drumming plus strings on two tracks.
The album opens with a message we all need to hear in these troubled times, "Keep On Keepin'
On," with McClendon's words of encouragement echoed by Skinny Williams' sublime saxophone.
He then paints the picture of a man whose life has been full of heartache and trouble on the easy shuffle, "If It Ain't The Blues." Johnny B. Gayden delivers the fat funky bass line while McClendon recites the necessary ingredients for a good time on the title track, "Let's Have A Party." The Soul Keeper serenades a special lady on the sweet doo-wop flavored ballad "Pretty Girl." He plays the role of man done wrong during the scorching rebuke "Pack Your Bags And Go." The R&B portrait of a wayward soul, "Ghetto Child," is a picture of troubled youth that can be seen on the streets of every city in America. The piano driven gospel sermon, "You Got To Be Strong," continues the album's theme of hope and determination. McFarland spars with McClendon on ice pick lead guitar for the edgy blues groove "Throw This Dog A Bone," a radio ready track with Albert Collins' flavor.
The romantic ode to forgiveness, "Start All Over Again," has a sweet country style.
Rico McFarland bends the strings while McClendon bends a knee and confesses his sins on the slow
burning "I Just Can't Help Myself." Burba lets loose a soaring guitar solo on the gut wrenching
blues "I Just Can't Take Anymore," as McClendon pushes the emotional boundaries. Acclaimed
Chicago guitarist Melvin Taylor sits in for the finale, "Funky Stuff," tossing out hot licks to rev up
the Windy City block party and close out the set with West Side style. Fans of "old school" soul
and R&B will enjoy 'Let's Have A Party,' from keeper of the soul flame, Gerald McClendon.
WEBLINKS
Artist website: www.geraldmcclendon.com/
Label website: www.deltaroots.com
Artist FB: www.facebook.com/groups/841525509246180
Betsie Brown, Blind Raccoon, betsie@blindraccoon.com,