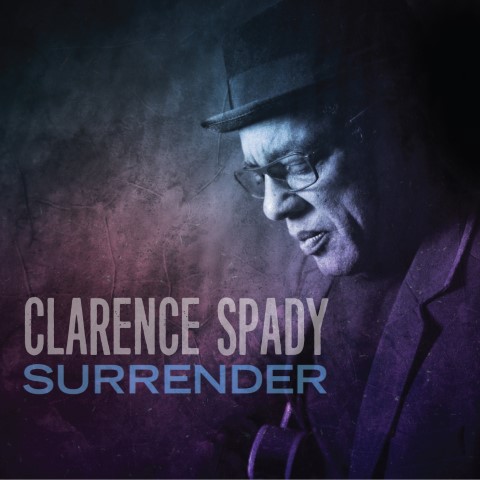 CLARENCE SPADY - SURRENDER
LABEL: NOLA BLUE RECORDS
RELEASE DATE: MAY 21, 2021
DISTRIBUTION: CPI & ORCHARD
ALBUM RELEASE SHOWS:
Friday, May 21 - Stoner Grille, Lancaster PA
Saturday, May 22 - River Street Jazz Cafe, Plains PA
Wednesday, May 26 - Bloomsburg Town Park, Bloomsburg PA
It is perfectly poignant that veteran bluesman Clarence Spady chose to include his version of Z.Z. Hill's hit song "Down Home Blues," on his new album Surrender, as the Pennsylvania guitarist has followed the footsteps of the soul-blues pioneer, who created a combination of blues and contemporary soul styling that helped to restore the blues to modern black consciousness. This is the first release for Spady since 2008 and it is a profession of faith and declaration of determined recovery from an artist whose life has been full of dramatic ups, downs, and sidetracks since breaking into the scene in the mid-90's and receiving his first W.C. Handy award nomination in 1997.
---
BIOGRAPHY (Excerpts from Bill Dahl, Music Journalist)
Clarence Spady is thoroughly motivated when it comes to his career. "Here we are in the saddle," says the veteran blues guitarist. "I've got both hands on the reins right now. So, I don't plan on letting go." Excellent news for contemporary blues fans who are well aware of Spady's acclaimed 1996 album Nature of the Beast and his equally impressive 2008 follow up Just Between Us.
By any standard, Clarence embarked on his musical odyssey at an uncommonly tender age. Born in Paterson, New Jersey in the early 60's, Spady began playing guitar when he was only five years old due to encouragement from two guitarists in his immediate family, his father (also named Clarence) and his Uncle Fletchey. "In the beginning, I really didn't work hard. God gave all of us a gift," Clarence says. "It was just innate." The family blues band jammed every weekend at his uncle's pad in New Jersey. For his stage debut (also at age five), he played Tommy Tucker's "Hi-Heel Sneakers" with the band at the local Elks Club, for a special close to the evening's show.

During the early '80s, Clarence joined a touring R&B band, A Touch of Class. Working with John Pougiese, the musical director, was like going to Berklee for two years, because he learned horn arrangements, harmony, rhythm, and the chord progressions he still uses today. From there, he joined Pennsylvania-based singer Greg Palmer's band, and spent six years touring with that Top 40 R&B band. The dawn of the 90's brought a return to his roots, and he put together the West Third Street Blues Band in the unlikely town of Scranton, Pennsylvania, the place he still calls home to this day. A union excavator by day, Spady played music at night and began writing his own originals.
---
By the mid-90's, the success of Nature of the Beast helped influence his nomination for a 1997 W.C. Handy Award for Best New Artist Debut. The record had legs, and Clarence toured for six years behind that release. During that time, he also picked up what has become a standard monthly rotation at Terra Blues in New York City's iconic Greenwich Village, exposing countless tourists from all over the world to Spady's sound. His sophomore release, Just Between Us, garnered a 2009 Blues Music Award nomination for Soul Blues
Album. We can all look forward to a new Clarence Spady album in 2021.

WEBLINKS
OS: www.clarencespady.com


Betsie Brown, Blind Raccoon, betsie@blindraccoon.com